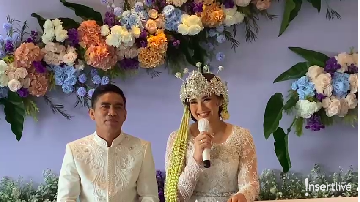 Newsdelivers.com, Insertlive –
Catherine Wilson is currently happy after officially releasing her bachelor period after marrying a businessman from Makassar, Idham Mase on October 1, 2022 yesterday. Even though she has officially become a wife, Catherine Wilson admits that she will not leave the world of entertainment in the country that has raised her name.
Moreover, her husband supports her to keep a career in the world entertainment. Even so, the woman who is familiarly called Keket did not deny that she would help the business run by Idham Mase.
"If to quit from entertainment no, yes. Because Catherine really loves Catherine's work in the world entertain, yes. So it's not like that. Idam also gave permission, that means he is support Catherine to stay in the world entertainment," said Catherine Wilson when met on Trans TV, Wednesday (5/10).
"At most, yes, now in entertainment also, help Idam's business too. Yes, learn how to do business," he continued.
It turns out that Catherine Wilson and her husband already have a large list of places they will visit for their honeymoon. Even so, Catherine Wilson and her husband decided to first return to Makassar to meet Idham Mase's mother, who was unable to attend the wedding at the time.
"There are a lot of lists, actually, not only Bali, Europe and Umrah, actually we from Bali want to go to Lembongan, then we also go to Maratua Island in Kalimantan, the island is very beautiful. There are lots of lists, but I think which one we want first. We just got married on the fourth day, because yesterday Idam's mother wasn't present, so we want to go back to Makassar first, we want to meet mother, then we meet the extended family who were unable to attend, "explained Catherine Wilson.
Although she has met Idham Mase's mother, Catherine Wilson said that since she has officially become a wife, she has not met the woman who became her father-in-law.
"You've met, you know your mother. This name is married, right, you have to meet again, ask for your blessing," he explained.
Catherine Wilson admits she really wants to have twins. He also said that he would carry out a pregnancy program after returning from Makassar.
"Not yet, maybe later when I come back from Makassar. Hopefully, yes, it will happen immediately," said Keket.
Even so, Catherine Wilson admitted that she would accept whatever God's decision would be. For him, the most important thing is that his future baby will grow up healthy.
"I want it for men and women, yes. But then again, it's just a wish, yes, but everything, yes, just be dedicated to God, the important thing is to be healthy, given strength too, health," he concluded.
(kpr/and)