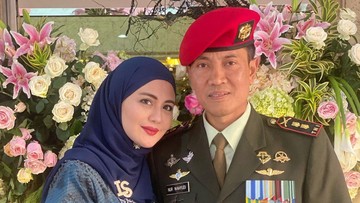 Newsdelivers.com
–
Since remarrying on 27 May 2022, Juliana Moechtar is now enjoying a new role as the wife of a TNI officer. She often shares moments when accompanying her husband, Lieutenant Colonel Inf Nur Wahyudi, at various events.
This Acehnese blood woman told me that her life now is not much different from before as an artist. He saw many similarities, among others, often meeting and working with many people.
"We get along, are humble, and meet people with different characters," said the woman who is familiarly called Ully, when HiMother Exclusive Interview recently.
Although there are similarities, of course the entertainment world is different from the military environment. Ully revealed, one of them had to maintain his attitude and way of speaking. Especially how to behave with seniors in the Army Wives Association (Persit).
Actually, he is no stranger to military life because his father and two younger brothers are also soldiers. However, he still has to adapt to the new environment and face various challenges.
Apparently, Ully admitted that he did not want to have a match with the army, "When I was still in high school, I was not interested."
Now, how do you finally have to be ready to accompany your husband? Mother, let's look at Juliana Moechtar's full heart in the following video:
[Gambas:Video Haibunda]
(muf/muf)