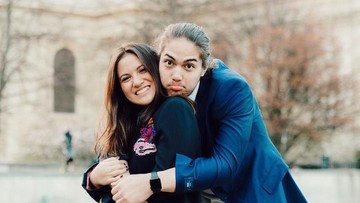 Newsdelivers.com, Insertlive –
El Rumi and Marsha Aruan are currently being discussed because they have just appeared as models to showcase the Basundari collection which is Apik Ayu Dyah Andari's collaboration with Batik Trusmi.
On that occasion, El Rumi and Marsha Aruan looked harmonious in green clothes. Both of them were compact swaying on the catwalk.
Video fashion show El Rumi and Marsha Aruan were also uploaded by the Tiktok account @el_j_rumi. Suddenly, the video was immediately flooded with various netizen comments. Many of them hope the two can get back together.
"Don't come back. Haha El grogi," commented Dian***'s account.
"A beautiful handsome matching couple, hopefully they come back again, amen," Please account Teh***.
"I'm sure they still love each other but the walls are too high." tutur akun You***.
"More Balkan," said the Alme *** account.
"They really match, pls come back," say App account***.
El Rumi and Marsha Aruan had an affair for five years. Although the relationship is based on religious differences, the two are far from slanted gossip.
Even so, both of them suddenly reported that their relationship had to run aground in the middle of the road. Until now, neither El Rumi nor Marsha Aruan are known to have a new partner. Of course, many hope that the two of them can re-knit a love story together.
(kpr / syf)