Newsdelivers.com, Insertlive –
The act of domestic violence (KDRT) by Rizky Billar against Lesti Kejora caused his wife to suffer a number of injuries.
The Head of Public Relations of the Polda Metro Jaya Kombes Pol E Zulpan revealed Lesti's condition due to Billar's domestic violence on Wednesday (5/10).
Zulpan explained that Lesti had a fracture in her neck after Billar strangled her in the bathroom.
"At the neck, as I explained earlier, her neck was strangled and (Lesti) was then slammed into the bed, her hand was pulled (when forced) to the bathroom, and then slammed into the bathroom. As a result of being slammed in the bathroom, her neck casts," said Zulpan quoted from detikcom on Wednesday (5/10).
Zulpan stated that the information about Lesti's injuries came from hospital information.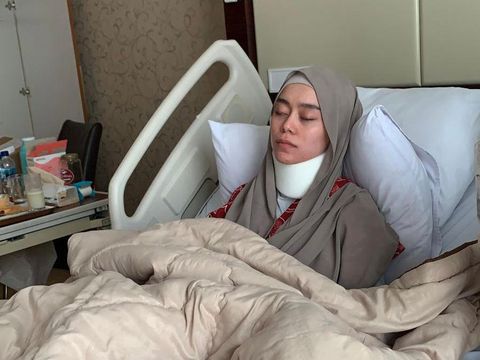 Lesti Kejora suffered a neck injury so she had to be put in a cast due to the alleged domestic violence of her husband, Rizky Billar/ Photo: (Photo: doc. Special)
Injuries to the neck such as that experienced by Lesti cannot be taken lightly because it can cause various health problems.
Launching from various sources, the following are health hazards due to injuries to the neck:
1. Chronic Fatigue Syndrome
Neck shift like Lesti Kejora's natural causes the cervical spine to be misaligned.
This can affect brainstem function, so sufferers may develop chronic fatigue syndrome or chronic fatigue chronic fatigue syndrome.
Quoting pages Upper Cervical Health Centerchronic fatigue syndrome will have a negative effect on the patient's quality of life.
Symptoms can include extreme fatigue, muscle aches, joint pain without swelling, concentration and memory problems, sore throats, headaches, and sleep disturbances.
2. Chronic Neck Pain
The most common symptom experienced by a patient with a neck injury is chronic pain. They feel pain, weakness, and stiffness.
Stiffness in the neck will limit the movement of the neck. Usually, the patient not only feels stiffness and pain in the neck, but also the shoulders and arms.
3. Limited Neck Motion
Neck injuries, especially neck shifts such as Lesti Kejora, can cause permanent limitation of neck range of motion.
A person with a neck injury cannot move the neck freely as usual. For example, being unable to turn your head, difficulty tilting your head, or other simple movements.
Some cases of neck motion limitation are treatable, but some are permanent.
4. Paralysis
The most fatal result of neck injury is paralysis. The neck is the part of the body that connects the brain with the spinal cord and becomes a means of exchanging information between the brain and the body.
If there is an injury to the neck, information or messages from the brain to the body cannot be conveyed, and vice versa.
Thus, an injury to the neck can result in a person experiencing partial (partial) or total paralysis.
(KHS/and)