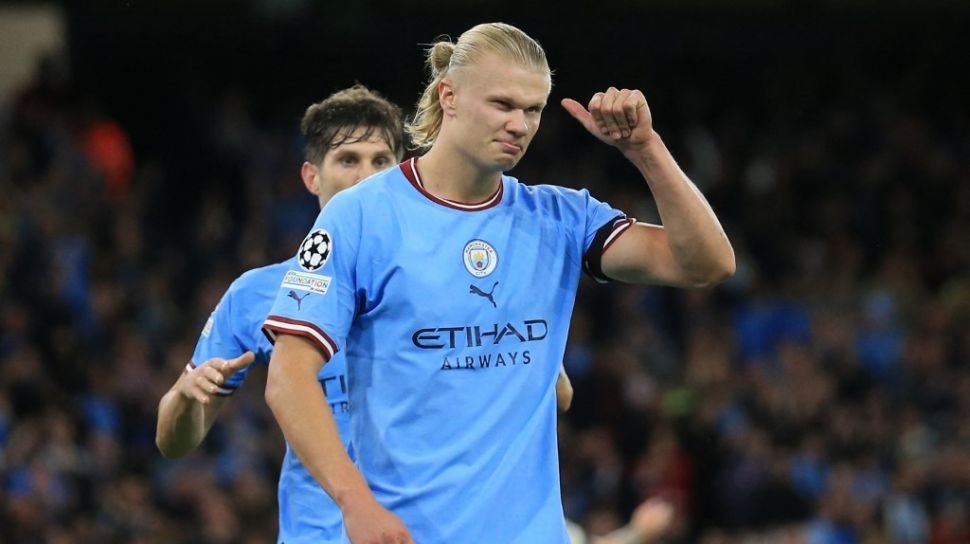 Suara.com – Sergio Aguero and Erling Haaland are both typical 'number 9' players at Manchester City. Although it looks very similar, it turns out that these two attackers have quite striking differences.
Manchester City is arguably the luckiest team in more than a decade. The Cityzens can be said to be lucky because of two ferocious attackers in that period.
The two ferocious attackers are in the figure of Sergio Aguero and Erling Haaland. Both of them are now idols thanks to their contributions so far.
Sergio Aguero first established the status as a ferocious striker that Man City has throughout history since joining in 2011 ago.
Read Also:
Manchester City vs FC Copenhagen Prediction in Champions League: Preview, Score and Line-up
Since joining in 2011, Aguero has been able to establish himself as the best striker in Man City's history after becoming the club's top scorer with 260 goals.
That nick also made Pep Guardiola, the Man City coach, cry by the departure of Aguero in the summer of 2021 to Barcelona.
After Aguero's departure in 2021, Man City doesn't have another pure striker who can let go of the Argentine's shadow.
But in the summer of 2022, Guardiola and Man City supporters seemed to find Aguero's successor in Erling Haaland who was able to become the Citizens' top goalscorer.
In 10 matches with Man City in the 2022/2023 season, Haaland has scored 17 goals for The Citizens in all competitions.
Read Also:
Fastest 3 Hat-trick Scorers in the Premier League: Erling Haaland Only Needs 8 Games, Others Dozens
Because of his nicks, both Aguero and Haaland are considered to have something in common, namely as the ultimate goal scorer for Man City.
In fact, even though they are both good at scoring goals, both Aguero and Haaland have different playing styles despite playing a role for the number 9 at Man City.
What are the differences?
Difference between Aguero and Haaland
Although both play the role of number 9 at Man City, Aguero and Haaland have different roles in filling the center forward position.
This can be seen from the role of the two players when coached by Pep Guardiola at Man City, where Aguero can be said to be a more complete striker than Haaland.
During Guardiola's training, Aguero was often positioned as a center forward or player number 9 in a 4-3-3 formation.
But Aguero not only has a role as a goal scorer, but he is also in charge of opening space and going down to the middle area to help build Man City's game.
So it is not surprising that Aguero plays a lot with the ball even though he is a number 9 striker who usually only works in the opponent's 16 box.
Aguero's playing style is different from Haaland, who can be said as a pure number 9 striker who is fierce in the opponent's 16 box.
Unlike Aguero, Haaland is a number 9 striker who relies on movement without the ball to find space for himself to score goals.
In short, Haaland needs the support of the creators on his team or the number 10 to score goals.
This is different from Aguero who diligently picks the ball into the middle of the field and even becomes a creator for his colleagues.
So it's not surprising that Haaland was able to score goals even though he rarely touched the ball during the game.
This is shown by Haaland as when he scored a hat-trick in the match against Nottingham Forest, even though he only touched the ball 16 times in 69 minutes.
[Felix Indra Jaya]