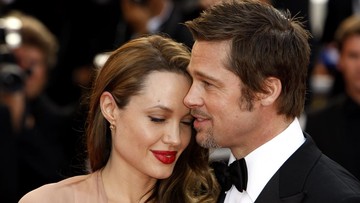 Newsdelivers.com, Insertlive –
The feud between ex-husband and wife Brad Pitt and Angelina Jolie is still continuing to a new chapter.
In fact, Jolie and Pitt have decided to end their marriage by divorcing in 2019.
However, other tempests began to appear after Jolie and Pitt officially divorced.
Jolie is now accusing Pitt of violence and abuse during the marriage.
In fact, Jolie said that her children also experienced violence from Pitt.
Allegations about the violence committed by Pitt were listed in the contents of court documents filed by Jolie.
Jolie shared that Pitt's violence occurred while traveling on a private plane with the children in 2016.
Movie star Eternals This felt that Pitt had shown an aggressive attitude before the family arrived at the airport.
"Pitt's aggressive behavior began even before the family arrived at the airport, with Pitt confronting one of the children," the court documents said.
"After the flight took off, Jolie approached Pitt and asked what was wrong. Pitt accused him of being too respectful towards children and verbally assaulted him," the statement continued.
Jolie later admitted that her head was strangled and Pitt shook her head violently in the bathroom.
Not only that, Jolie also tells the story of Pitt's actions strangling one of their children.
"Pitt pulled her into the bathroom and started yelling at her. Pitt grabbed Jolie's head and shook her, then grabbed her shoulders and shook her again before pushing her against the bathroom wall," the document reads.
Not only that, Jolie also said that Pitt had hit their other child who tried to defend.
Jolie also admitted that she had tried to hold Pitt with all her might to stop violence against children.
"Pitt lunged at his own son and Jolie grabbed him from behind to stop him. To release Jolie from his back, Pitt threw himself back into the airplane seat, injuring Jolie's back and elbow," another statement from the document said.
"The kids rushed in and all valiantly tried to protect each other. Before it was over, Pitt choked one of the kids and punched the other in the face." continue the content of the document.
The FBI had opened an investigation document related to a report filed by Jolie about Pitt's violence.
The FBI said that Jolie did not file any charges related to the allegations about Pitt's actions.
"In response to allegations made after a flight within the jurisdiction of a special United States aircraft that landed in Los Angeles carrying Mr. Brad Pitt and his children, the FBI has conducted a review of the circumstances and will not be pursuing further investigations," said Laura Eimiller, a spokeswoman for the field office. FBI in Los Angeles.
"There are no claims filed in this matter." continued Laura.
Jolie finally filed for divorce from Pitt exactly 5 days after the violent incident on the plane occurred.
(ikh/and)