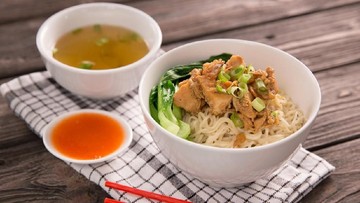 Newsdelivers.com –
In some areas, Mie Ayam is also known as Mie Pangsit because it is served with very delicious fried dumplings. Served warm, a full bowl, and equipped with chili sauce, making this one food a lot of fans, you know, Mother.
The process of making chicken noodles is also very simple and practical. Mother only needs to boil, mix the spices, give topping, and serve. This can be done by anyone, including Mother at home.
In addition, the raw and supporting materials are easy to find in the market, even fresh wet noodles are specially available so you don't have to make them yourself anymore.
If you want to open a chicken noodle business, you can make this business from a small scale, for example starting from a chicken noodle cart first. Once developed, you only need to add a cart or selling stall.
The capital needed to start a chicken noodle business either using a wheelbarrow or settling down is very cheap and still affordable. So, are you interested in opening this one food business?
If you are interested, maybe you need to try making various chicken noodle recipes first for your business menus later. Well, to help Mother, here are chicken noodle recipes summarized from the book Various Recipes and Business Tips for Mie Ayam Cart & Noodle Resto by Yuyun A.
1. Mushroom chicken noodle recipe
Materials:
80 grams of egg noodles

5 servings of gravy

5 dumplings

5 servings of seasoning oil

Enough fried onions

Powder seasoning to taste
For topping chicken:
250 grams of chicken

100 grams of button mushrooms

50 grams of spring onion, sliced

20 grams of ginger

20 grams of sweet soy sauce

30 grams of garlic

30 grams of red onion

2 bay leaves

Pepper powder to taste

Enough water

Sufficient seasoning
How to make:
To make topping chicken, Mother needs to cut the chicken into small pieces. Slice the button mushrooms thin and small, then, set aside. Then, puree the onion, stir-fry until fragrant, add the bay leaf, chicken, mushroom pieces, seasoning, salt, pepper, and lastly, sweet soy sauce. Add a little water until the spices are absorbed and cooked. After that, stir until slightly dry, then, lift.
How to serve it, boil egg noodles in hot water. Dip for 2 to 3 minutes until noodles are puffy and cooked. Prepare the seasoning in a bowl, add the cooked noodles. Then, stir with chopsticks until combined. Then, add topping Mushrooms about 4 tbsp, add fried onions, chopped scallions, fried dumplings, and gravy separately given the pieces tong cay or fresh mustard.
Continue reading the next page to find out other chicken noodle recipes, come on, Mother.
Mother, come on, download Allo Bank digital app here. Get 10 percent discount and cashback 5 percent.
Also watch the fried kwetiau recipe video below, yes, Mother.
[Gambas:Video Haibunda]