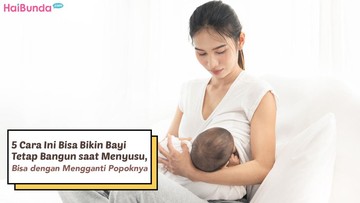 Haibunda |
Haibunda

Friday, 30 Sep 2022 12:40 WIB
If you pay attention, it's easy for babies to fall asleep while breastfeeding, Mother, especially newborns. Even though your little one looks sound asleep, there are times when a newborn needs to be woken up to breastfeed. Maybe the mother herself sometimes feels uncomfortable when she has to wake her little one to feed. However, this is done to ensure they are properly fed, Mother.
One thing is for sure, waking the baby to breastfeed is something that should be done, especially at an early age. So don't worry and hesitate to breastfeed even if you're sleeping. Launching the Medela.com page, there are some simple and effective things you can do to help your little one stay awake while breastfeeding. See more in the video, Mother!

Share yuk, Bun!