Suara.com – Hearing the word honey is certainly not foreign to the ears of many people. But have you ever known about the ins and outs of cultivation?
One thing that is not widely known is that honey cultivation has provided benefits and has supported the economy of a number of honey bee cultivators. One of them is from the Industrial Plantation Forest Company (HTI) one of APP Sinar Mas' business units, PT Wirakarya Sakti.
The Independent Business Group in Sungai Rambai Village, Senyerang District, West Tanjungjabung Regency, Jambi, for example, has started beekeeping since 2020. Now the group, which has 11 members, has managed 2,000 boxes of Apis Mellifera bees.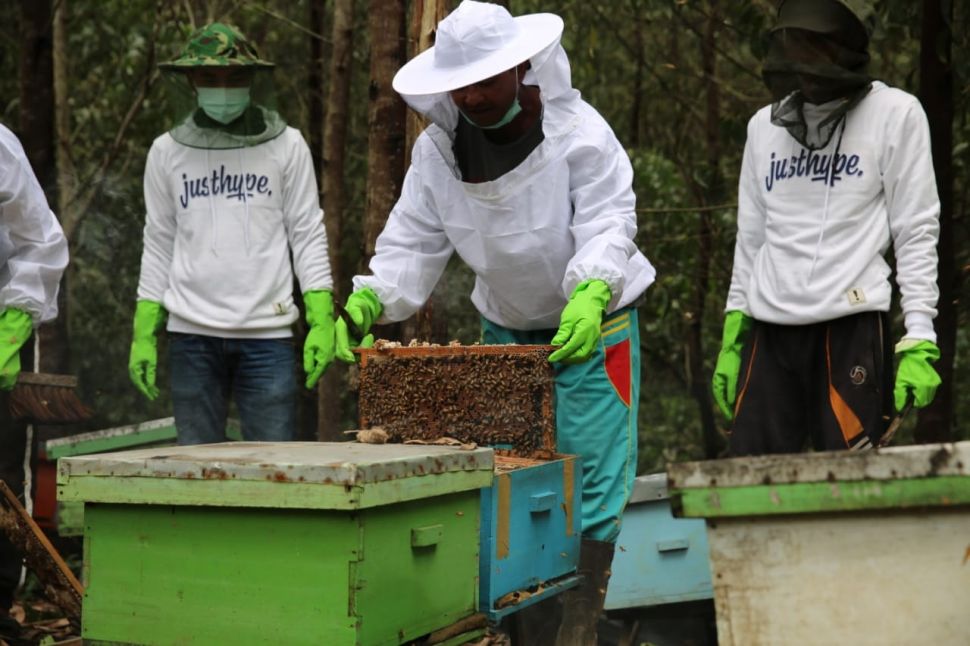 This Independent Business Group partners with PT WKS through the Desa Makmur Peduli Api (DMPA) program–APP Sinar Mas' flagship program–to manage honey non-timber forest products (NTFPs). The group was given a facility in the form of an allocation of a beekeeping site within the acacia forest concession area.
Read Also:
4 Benefits of Drinking Lemon and Honey for Health
"We are also given facilities in the form of capacity and resource development. The plan is that on October 3, 2022, we will participate in an exhibition in Jakarta which is facilitated by the Indonesian Chamber of Commerce and Industry (KADIN)," said Wanudin, Head of the Independent Business Bee Farmer Group in his statement, Friday (30/9/20220).
Since partnering with the company PT. WKS, Wanudin, admitted that he had made many changes to the group's economy. From the beginning this group only focused on sharing the results of the partnership, now the group has other income from beekeeping so that it helps support its income.
In addition, honey products from captivity that they manage continue to increase. In a month his group can produce as much as 7 tons of pure honey. However, according to Wanudin, the increase in honey production still has problems and has not been fully absorbed.
"On average 1.5 tons are sold a month, so the rest is stocked in warehouses," said Wanudin, adding that the average monthly turnover of this group is tens of millions with an average price of Rp. 40-70 thousand per kilogram.
Since a month ago their group has opened a marketing branch in Batam, Riau Islands. Through marketing offices outside this area, it is expected to increase sales and also higher prices.
Read Also:
Ask the Doctor: Consumption of Angkak Honey When You Have DHF Is It Safe, Doc?
"In Batam the prospects are still good, and the selling price is still high. But because we are still new, we have not been able to absorb all of the production," he said.
In addition, through this partnership program, the Mandiri Usaha Group, which is chaired by Wanudin, now has its own trademark. Their honey business has the brand "Melifira Pure Honey".