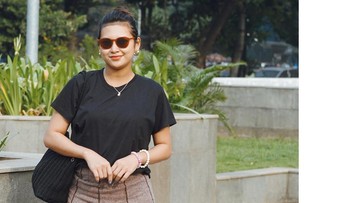 Newsdelivers.com –
Mother, it is natural for a woman to gain weight during pregnancy and even after childbirth. Inevitably, many mothers are worried about their weight and belly that still protrudes even though the pregnancy is over.
This weight gain was also experienced by Indah Permatasari. This Wedding Agreement actress has just given birth on September 1, 2022. Before giving birth, Indah did seem to have gained weight, but she didn't seem to care and instead looked even more beautiful.
And now, through her Instagram account, @indahpermatas, Indah shares some photos that show her slim body again. "19 days after giving birth, it turns out that there are good things from staying up late every night," she wrote.
That, he admitted, thanks to breastfeeding the little one every night, Arie Kriting's wife managed to lose weight, you know Mother. That's really cool! The return of Indah's body as before pregnancy received praise from netizens.
"It's back donggg." write the instagram account @kykuu.
"A month of breastfeeding is also a free fall because the scales stay up late + breastfeed." write the instagram account @ajebajebajeba.
"Oh my gosh, the weight is so fast, it's like people have never been pregnant." write instagram account @kadekchintya936
"He's back really fast, dance lady." write instagam account @im.elda9911
Breastfeeding turns out to have many benefits for babies and mothers, one of which can help lose weight faster after childbirth. Losing weight after childbirth does take time, it can't be instant.
However, many breastfeeding mothers report that breastfeeding can help them gain their original weight. Even though you can lose weight, you have to pay attention to the effects that can happen.
Does breastfeeding help you lose weight?
Initially breastfeeding doesn't help you lose any extra weight because the initial weight loss and reflection of the baby's weight, placenta, amniotic fluid and excess water account for about 15 to 17 pounds in the first few weeks.
However, eventually breastfeeding can help contract the uterus and shrink it back to its pre-pregnancy size more quickly. Launch page Healthline.comResearch shows that mothers who breastfeed exclusively tend to burn an average of 500 additional calories each day or the equivalent of cutting out small meals, large snacks, or doing 45-60 minutes of moderate-intensity physical exercise.
Click on the next page to find out more information about breastfeeding for weight loss.
Mother, come on download Allo Bank digital app here. Get 10 percent discount and cashback 5 percent.
Let's also watch the video about the choice of birth control devices that don't cause fat:
[Gambas:Video Haibunda]