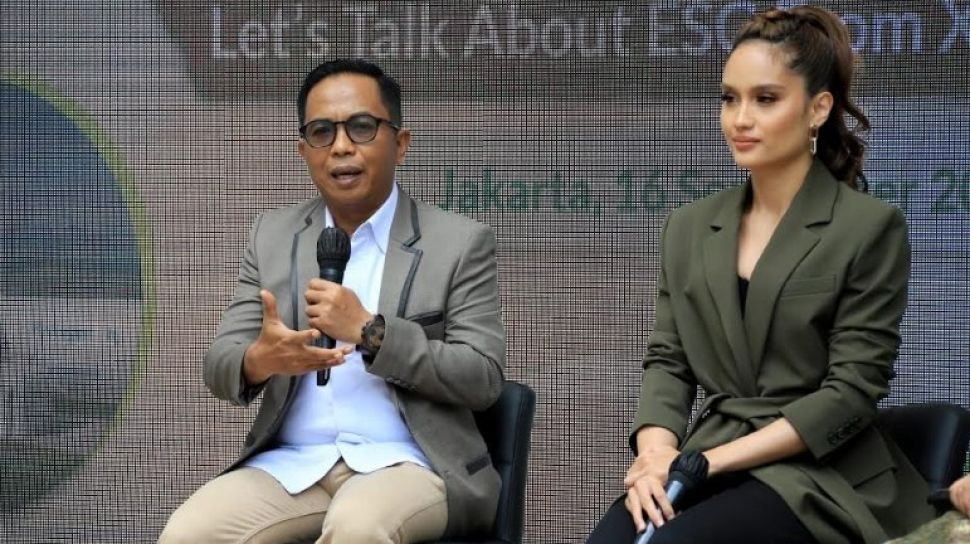 Suara.com – The commitment of PT Bank Rakyat Indonesia (Persero) Tbk in the application of the principles of ESG or Environmental (environment), Social (social) and Governance (good governance) continues to reap appreciation from various circles. This time, a multitalented public figure and BRI brand ambassador, Cinta Laura Kiehl expressed her admiration for BRI's commitment to implementing sustainable principles in ESG.
This was expressed by Cinta in the routine educational event of the BRI Park Discussion, which this time raised the theme Let's Talk About ESG From X to Z. He appreciated BRI's steps in supporting Environmentally Friendly Business Activities (KUBL), whose value reached Rp657.1 trillion 65.5 % of the total portfolio. Moreover, Rp74.7 trillion was channeled to green financing.
The actress, who is also active in voicing environmental issues, said that BRI's capability in disbursing financing was also supported by a strong empowerment program, resulting in broad social and economic impacts for the community.
"Something that makes me very proud of BRI. BRI realizes that one way to empower the community is to make them financially independent," he said enthusiastically.
Read Also:
BRI Customers Reminded to Beware of Misleading Information, These are Tips from Cyber ​​Security Experts
Cinta highlighted the contribution of BRI in developing MSMEs, which are the backbone of the Indonesian economy. He hopes that BRI's efforts in encouraging the implementation of ESG in the MSME sector will increasingly reap positive results in terms of sustainability in Indonesia.
He invites the younger generation to pay more attention to the importance of implementing ESG. According to him, awareness of ESG today has a key role in life in the future.
"How can we make them aware that they need to live a sustainable life, they need to care about environment, they need to care about equality. Everything we do now will have an impact in the future. So maybe the future programs that we can do, BRI, I, and young Indonesians are to make children aware without them being dictated to their way of thinking, so that the application of ESG makes sense so that they understand this is very important for a shared future, " he said.
On the same occasion, BRI's Compliance Director, Ahmad Solichin Lutfiyanto said, BRI will manage assets as optimally as possible to create new sources of growth in accordance with ESG principles. With assets of more than IDR 1,600 trillion, the BRI Group needs to be more concerned about the environment, as well as social conditions through good governance.
BRI as the bank with the widest network in Indonesia has disbursed Rp920 trillion in the second quarter of 2022, an increase of 9.81% year on year (YoY). Therefore, the proportion of MSME loans compared to BRI's total loans continued to grow to around 83.27%.
Read Also:
BRI Consistently Conducts Personal Data Security Education for Workers and the Community
On a consolidated basis, BRI managed to disburse loans of Rp1,104.79 trillion in the second quarter of 2022, or grew 8.75% YoY on an annual basis. The main support for credit growth was the micro segment at around 15.07%, the consumer segment grew 5.27%, the corporate segment grew 3.76% and the small and medium segment grew 2.71%.
"All of this is in the interest of the sustainability of future generations. So that corporations like BRI have an obligation that we must invest for the future. Because if you think about talking about ESG, if you want to talk about people, profit, planet, those are all investments," he stressed.
BRI also continuously strives to strengthen aspects of good governance. BRI became the first company in Indonesia to publish a sustainability report in 2013.
BRI has also become the First Mover on Sustainable Banking. The following year, the company was appointed as chairman of the Indonesian Sustainable Finance Initiative (IKBI) in 2017.
In 2019, BRI issued a US$500 million sustainability bond and prepared a 2019-2024 sustainable finance action plan. The implementation of ESG at BRI has been optimized through the establishment of an ESG Committee which is responsible for implementing ESG in the company since 2021.
"So if you want to benchmark later, 'who is the best ESG in Indonesia?' yes BRI with clear parameters and standards. BRI Group is increasingly concerned about the implementation of ESG, which is now getting better and in the future it will be even better," he concluded.