Suara.com – Rizky Billar's manager, Dery Syaputra Raeger, did not remain silent after being accused of hiding his artist's infidelity. Rizky Billar is accused of having an affair with Devina Kirana.
This can be seen when Dery Syaputra replied to netizen comments on Devina Kirana's last Instagram post.
"If this is his mistress, has @derysyaputraraeger known? Under the auspices of the same manager," asked one netizen in the comment column.
Next, Dery Syaputra immediately replied.
Read Also:
Devina Kirana's IG account was invaded by netizens after being accused of being an affair with Rizky Billar
"This is another account an**. Don't slander, keep your mouth shut," he replied emotionally.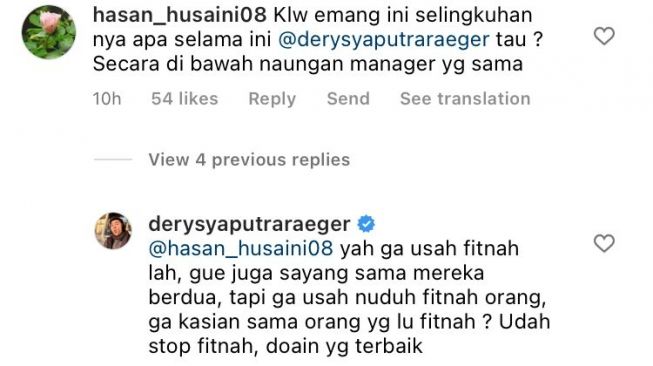 The netizen then asked for clarification from Dery Syaputra regarding the household conflict of Rizky Billar and Lesti Kejora which was allegedly caused by a third person.
This is where Dery Syaputra asked netizens to stop slandering other people.
"Please explain to us, bro. We just really love them. Just seeing the news makes it sad," said the netizen.
"Yes, no need to slander. I also love the two of them, but no need to accuse people of slandering. Don't feel sorry for the people you slander? Stop slandering, wish you the best," replied Dery Syaputra.
Read Also:
Unacceptable conversation being humiliated as a husband goes viral again, Rizky Billar's facial expression is in the spotlight
Until this news was uploaded, Devina Kirana herself had not provided any clarification or statement regarding the accusations from netizens about being an affair with Rizky Billar.
As is known, Devina Kirana and Rizky Billar did star in the same soap opera. They acted in the Father's Will Match Act 2.
Apart from that, Lesti Kejora reported Rizky Billar to the police on charges of domestic violence. Rizky Billar abused his wife after Lesti Kejora found out about his affair.