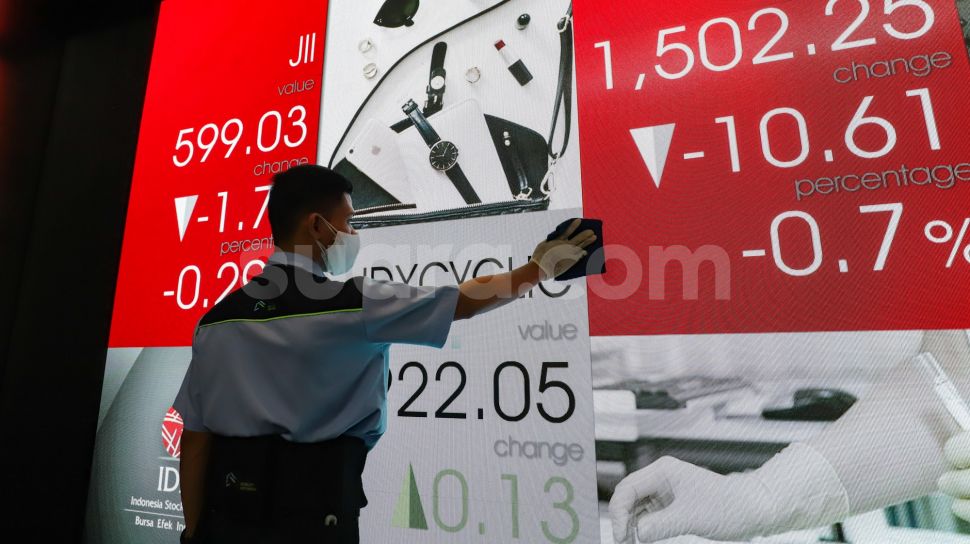 Suara.com – The Composite Stock Price Index (JCI) at the opening of trading towards the end of this week opened lower to a level of 7,021 after closing at 7,036 in yesterday's trading today.
Launching RTI data, Friday (9/30/2022) JCI was opened at the beginning of pre-trading, weakening 14.4 basis points or depreciating 0.21 percent to the level of 7,021.
After opening at exactly 09:00 WIB, the JCI rate continued to creep down to the level of 7.1017 or had weakened by 0.27 percent.
Meanwhile, the LQ45 index also opened lower, in early trading this index fell 3.3 basis points or weakened 0.33 percent at the level of 1.005.
Read Also:
Slipping into the Red Zone Again, JCI Thursday Afternoon Nyungsep to Level 7,036
At this level, 109 million shares of the JCI were traded with a value of Rp. 191 billion and the volume of transactions reached 9.7 thousand times.
A total of 78 stocks rose, 132 stocks weakened and 198 stocks have not been traded.
CEO of PT Yugen Bertumbuh Sekuritas William Surya Wijaya said that entering this weekend as well as the end of the JCI, it still looks like it is in the range of consolidation with potential pressures that are still quite large.
"However, ahead of the release of data at the beginning of the month regarding inflation which is expected to remain in a stable condition, it can provide positive sentiment towards the JCI movement pattern for some time to come," William said in his analysis.
He also predicts that today the JCI will be under pressure in the range of 6,998 – 7,236.
Read Also:
Two Key Factors in Strengthening the Rupiah Exchange Rate Today
A number of recommended stock options are PWON, ASRI, TBIG, GGRM, EXCL, CTRA, HMSP, WTON.