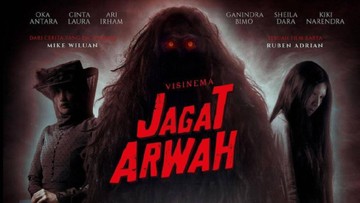 Newsdelivers.com, Insertlive –
Visinema Pictures again gives a new color to Indonesian cinema by releasing the film Spirit World. This horror-fantasy genre film has started showing in theaters since today, Thursday (29/9).
This film, made by Ruben Adrian, presents well-known Indonesian actors, from Ari Irham, Oka Antara, Ganindra Bimo, Sheila Dara, to Cinta Laura.
Synopsis of the film Jagat Arwah
The sudden and suspicious death of his father, Sukmo (Kiki Narendra), pushes Raga (Ari Irham) to explore his life which is full of mystical things. Including the fact that he is a descendant of the balancing of the Spirit Universe as well as the Human Guardian who holds the 7th Aditya.
On the other hand, Raga has a dream to become a member of a famous band. However, the dream was dashed in order to perpetuate his family tradition.
Assisted by his uncle, Jaya (Oka Antara), Raga tries to control the power within him and meets the spirits who still have a relationship with him on his journey, namely Nonik (Cinta Laura) to Genderuwo (Ganindra Bimo). The meeting then changed Raga's life forever.
Witness the thrilling journey of the inner Body Spirit World only in the cinema.
(yoa/and)