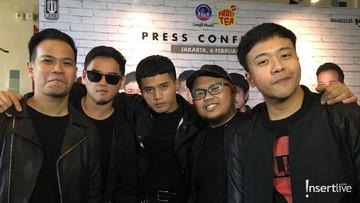 Newsdelivers.com, Insertlive –
Giring Ganesha has not been active with Nidji since 2013. At that time, fans immediately wondered what the reason for Giring's departure was, and some suspected that the vocalist was indeed expelled from the group.
Randy Danistha was thought to be the one who issued the Giring. However, Randy who also now works as an actor gave a rebuttal.
"Oh, that's a wrong statement. It doesn't have the authority to issue personnel of all kinds. The band is a job that we prioritize harmony," Randy explained when met on Trans TV, Thursday (29/9).
According to Randy, going in and out of personnel in a band is common. Randy said anyone can leave the band if it is no longer in line or in frequency.
"So if there's something different, it will come out naturally," said Randy.
"In the past, we used to use flavor bands. We practiced, complemented each other. For example, if there was an error or something, natural selection would automatically escape the tug of war," he concluded.
Even so, Giring's relationship with Nidji remained intact even though they no longer performed together. During the gig, both Giring and Nidji performed the songs they had composed together.
Giring and Nidji agreed not to have a problem if one of them performed the songs Let, Secret Heart, and Disco Lazy Time on stage.
(ikh/ikh)