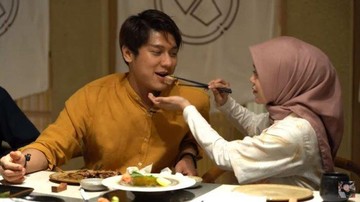 Newsdelivers.com, Insertlive –
The police provided detailed information regarding the report on Domestic Violence (KDRT) carried out by Rizky Billar against Lesti Kejora.
In the details, Rizky Billar reportedly slammed Lesti Kejora onto the bed after being caught cheating by his wife.
In addition to being slammed into a bed, Rizky Billar is said to have strangled Lesti Kejora until the incident repeated itself.
"It started with Lesti's victim knowing that her husband, Rizky Billar, was cheating on her behind her back. Rizky Billar was emotional because Lesti asked her parents to just send her home, so she committed domestic violence as reported," said the Head of Public Relations of the Polda Metro Jaya, Kombes Pol Endra Zulpan in his statement. quoted from detikcom.
"The reported strangled the victim's neck until it fell to the floor and was done repeatedly, the reported pulled the victim's hand to the bathroom and threw the victim on the floor and over and over again," he continued.
This incident made the public highlight the prenuptial agreement between Billar and Lesti Kejora.
On August 10, 2021, Billar and Lesti had time to spit out some of the contents of the prenuptial agreement.
One of the contents of the prenuptial agreement was that Rizky Billar had to kiss Lesti Kejora's forehead before leaving for work.
"Always kiss forehead before work," reads the content of the prenuptial agreement.
There is also an agreement that both of them must share ATM PINs, actively carry out transactions video call for communication to roses on every anniversary.
"Every month anniv must buy grandpa roses", the contents of the prenuptial agreement.
Meanwhile, Rizky Billar's domestic violence case against Lesti Kejora has yet to be commented on by the two.
(dis/and)