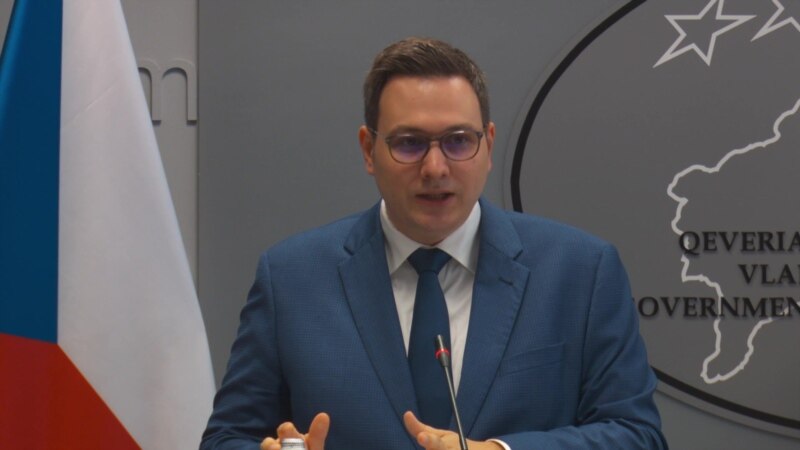 Czech Foreign Minister Jan Lipavsky said Thursday in Pristina that the Czech Republic, which holds the next presidency of the European Union, has high expectations that the visa liberalization process for Kosovo citizens will be completed during the Czech presidency.
Mr. Lipavsky, who is on an official visit to Kosovo, made these comments after meeting with the Deputy Prime Minister, Besnik Bislimi.
"It is a process that depends on technical aspects and political decisions. Very soon the European Union will review the technical aspects and in the meantime I hope that the Czech presidency will be able to secure a political agreement on visa liberalization for Kosovo. Then we return to the technical process to bring this issue to life, so it is difficult to predict the date when these processes will be completed. But my expectations from political decisions are very high and this is the agenda I am working on", it is.
The issue of visa liberalization for Kosovo is expected to be on the agenda on October 13, at the meeting of the working group of the European Council.
Deputy Prime Minister Bislimi said that the government has worked with increased intensity over the past 18 months with all the skeptical countries regarding visa liberalization for Kosovo.
"When we received a request for an updated report on technical issues, my team prepared a 33-page report with information on all the important developments that have taken place in Kosovo since 2018. With this report, we aim to show that Kosovo is now on a completely different journey, that the previously heard narratives no longer exist, that we have a new democracy that is dealing with all the issues raised by skeptical states. I have personally met all the heads of state who still have doubts, and I appreciate that now we have the moment and the environment that offers the possibility for a positive decision on this matter". it is.
Mr. Lipavsky emphasized that the Western Balkans is a priority of the Czech presidency, underlining that the normalization of relations between the Balkan states is essential for the process of integration into the European Union.
"Without progress in reconciliation, it is impossible to become part of the European Union, which is essentially a peace project. Here I want to emphasize my full support for the special envoy of the European Union, Miroslav Lajcak, to help Kosovo and Serbia to normalize relations between them. I hope that progress can be achieved, but both sides must respect and implement all the agreements already reached". it is.
Of the six countries of the Western Balkans that remain outside the European Union, the citizens of Kosovo are the only ones that cannot move without visas in the European countries.