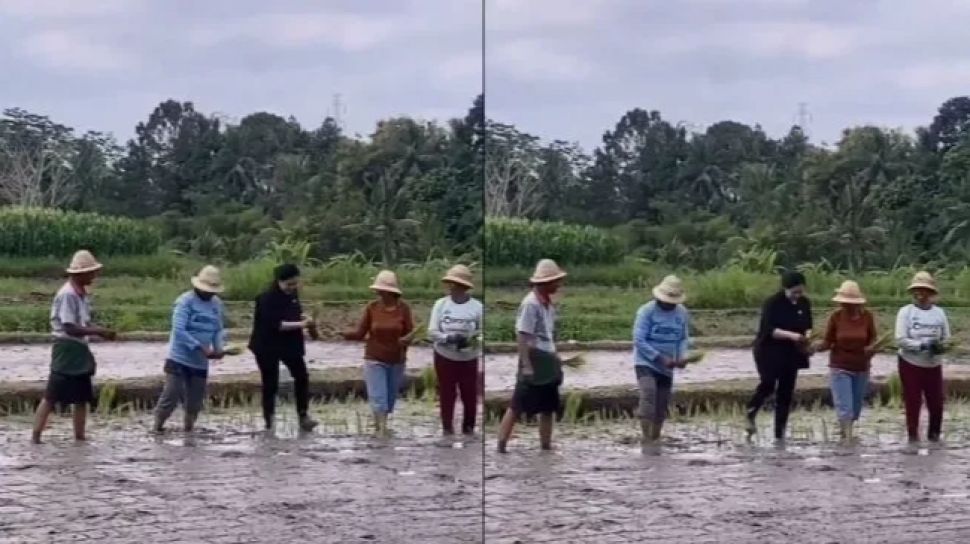 Suara.com – The chairman of the Indonesian House of Representatives, Puan Maharani, has now gone viral after being caught on camera planting rice with several farmers in a rice field in an area. Instead of getting praise for her actions, Puan became the target of netizens for planting with steps forward, not backwards!
Now, the video of Puan planting rice has spread widely and has been flooded with scathing criticism from netizens. The majority of them criticized Puan for growing rice by moving forward.
"Wkwkwkkw finally farmers can advance too," quipped a netizen via Twitter while uploading a video of Puan planting rice, Wednesday (28/9/2022).
"I just now know how to plant rice in this advanced way," said another.
Read Also:
Survey: Stretching Puan Maharani Makes PDI-P's Vote Drop, If You Choose You Will Increase Electability
Reflecting on the 'mistake' of the chairman of the House of Representatives, what is the right technique for growing rice? Here's the explanation.
Planting rice with techniques plant: Naam mundur
That said, the term planting in Javanese is plant stands for nanam nata and retreat (planting neatly and done stepping back). This technique is the opposite of what Puan did in the video footage.
Not only interpreted literally, there is a special philosopher why Nandur alias Nanam Paddy has to step down. This is done so that the rice seeds that have been planted in the water will not be stepped on again. Yahsimilar to when we mop the floor so that the already tidy parts are not dirty or messy again.
In addition, the following is an explanation of the procedures and techniques for planting rice as explained on the official website of the Bawuran sub-district government, Bantul, Yogyakarta.
Read Also:
Leveraging Jokowi's Action of Throwing T-shirts, PDIP Politician Defends Puan Gegara Jutek: He's also Human, Maybe Tired
Before planting rice seeds, the first step that must be done is to prepare the land or planting media. First of all, make sure there are no weeds or pest plants growing on the paddy fields. To cultivate so that the land used is fertile, it is necessary to plow using traditional tools and machines.