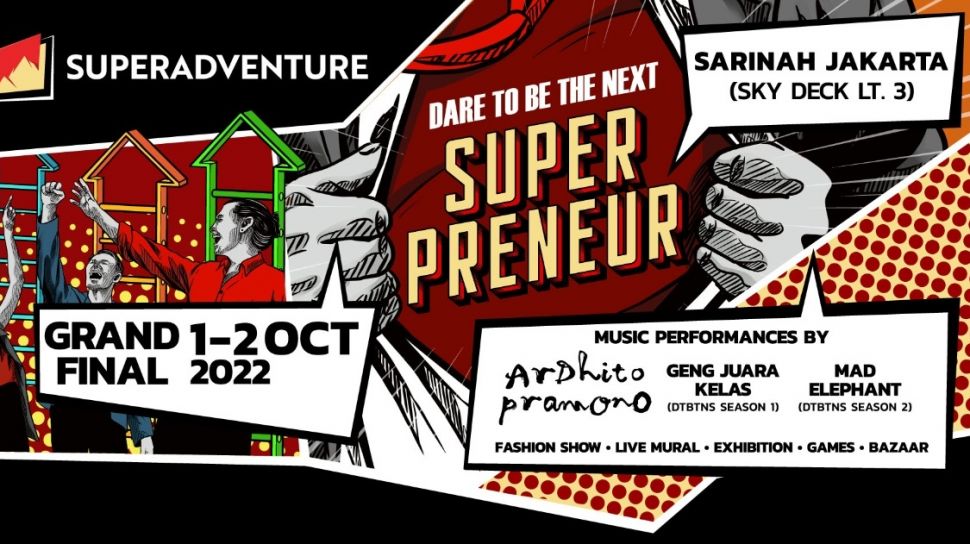 Suara.com – Super AdventureDare To Be The Next Superpreneur will enter the grand finale. As many as 25 young entrepreneurs have been screened and will win a prize money of IDR 500 million.
Various categories of entrepreneurs will also be presented by 25 finalists, ranging from clothing & apparels, food and beverage, technology, raw material production, services and handicrafts.
The finalists came from various regions which were divided into five regional sections, namely Jabodetabek, West Java, Central Java, East Java, and outside Java.
The selection of the 25 young entrepreneur finalists was the result of a curation process carried out by the judges as well as mentors consisting of Jeffry Jouw owner of USS Networks & Kick Avenue, Brian Imawan CEO & Founder of Jumpstart Indonesia, Dea Salsabila CEO & Founder Rentique, Bagus Satrio Founder Sagara Boot, and Adit Yara Founder of NIION.
In addition to the judges above, the figure of Sammy Bramantyo, who is a member of the Seringai band as well as a successful businessman, will share interesting experiences about entrepreneurship to the finalists.
"Super Adventure Dare To Be The Next Superpreneur is a very good event to hone the skills and creativity of the younger generation for entrepreneurship, as well as provide them with real provisions, namely business capital. In the next grand final, I will share tips and tricks to build a business. a brand that is unique and favored by the target market," said Sammy, as in a statement received by Suara.com.
Super Adventure representative, Aloysius Dwiwoko Hertiyono, appreciated the great interest of the Indonesian young generation in pursuing the business world. Since its inception, this event has been attended by a total of more than 2,000 young entrepreneurs.
"Conceptually, all the businesses of these finalists have tremendous potential and the quality is evenly distributed. There are lots of innovative ideas that have emerged. Things like this we want to bring up in Super Adventure Dare To Be The Next Superpreneur, as inspiration to create more young entrepreneurs who have an adventurous spirit and high local pride," said the man who is familiarly called Tiyok.
The Grand Final of Dare To Be The Next Superpreneur, which will be held on October 1 and 2, 2022 at Sarinah Jakarta, will present exciting fun ranging from fashion shows, live murals, games, exhibitions, bazaars and live music featuring the Champion Class Gang (Juara Supermusic 'Dare To Be The Next Superstar' Season 1), Mad Elephant (The Champion of Supermusic 'Dare To Be The Next Superstar' Season 2), and Ardhito Pramono.