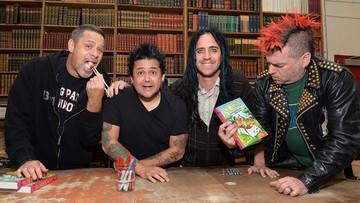 Newsdelivers.com, Insertlive –
Punk band from the United States named NOFX has announced a double album which will be their latest record.
This album will be a follow-up to their latest song which was recently released on social media.
The new song released by NOFX is titled Darby Crashing Your Party.
The song is apparently NOFX's dedication to the late Darby Crash vocalist of the band Germs.
NOFX said that the album would be their last work as a well-known punk band in the music industry.
The reason is, in early September, NOFX had announced that it would disband in 2023.
Fat Mike as vocalist had explained that the album would be NOFX's funniest work.
"Probably our funniest release. You have to laugh at everything because the world is collapsing and you have to have a good attitude not to take it seriously," said Fat Mike, quoted by NME on Thursday (29/9).
Fat Mike says that sometimes it's fun to make people happy through funny works that poke fun at certain issues.
Fat also personally has a pleasant personality and likes to make jokes to entertain people.
"So this is how I always do it. I make people laugh every day. I usually do it in a self-deprecating way, that's how I live life, I have as much fun as I can. That's life, trying to find all the happiness you can. And spread happiness. Which I think should be my job in life, spread joy," continued Fat Mike.
Previously Fat Mike surprised fans when announcing NOFX would disband in 2023.
The news Fat Mike conveyed through uploads on social media.
"Next year (2023) will be the last year for NOFX. We will soon be announcing our last show. It's been an amazing journey…" said Fat Mike on social media.
Fat's statement immediately made many fans feel sad and wished they could watch NOFX for the last time.
In fact, there are fans who hope that NOFX can hold a final concert in Los Angeles.
Fat Mike also confirmed that Los Angeles would be included in the list of NOFX's last concerts.
"Los Angeles will be the last place we play. That's where we start, that's where we'll end," concluded Fat Mike.
Even so, there are no further details regarding the double album which will be NOFX's last work.
(ikh/ikh)