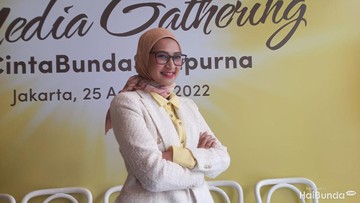 Newsdelivers.com –
Every September 29 is always celebrated as International Day of the Deaf, Mother. Deafness itself is a person's limited hearing ability that hinders the process of information received.
The story of the mother who is deaf, Angkie Yudistia, can be one of your inspirations. Angkie admitted that she had felt overwhelmed when she had children because during her life, Angkie was always taken care of by her family and never took care of anyone.
"I have a lot of challenges as a mother with special needs. As a person with a disability, we are always taken care of and we don't know how to take care of it. And that includes me," she said at the event. Media Gathering #CintaBundaSempurna with Nestlé DANCOW FortiGro, some time ago.
"From childhood I was taken care of by my parents, loved by my family. When I grew up I had to take care of the baby. Who can help? Husband, parents," she continued.
In the midst of her limitations, Angkie feels grateful for getting a lot of support from her family. Her family even helped Angkie explain her limitations to her children.
"But I'm lucky, I have a support system. So if we can't explain our shortcomings, our family can explain. So now my son calls me a right clap. So I know," he added.
"Indeed, it takes time for my son to understand, to understand. But when my son is 5 years old, 6 years old, he can understand," continued Angkie.
As a deaf person, Angkie admits that it is not easy to accept herself, especially being a mother to her children. However, over time, Angkie was able to accept the situation.
"It's not easy. We just need time to accept ourselves. But time goes by. Time matures us," he said.
On the same occasion, Angkie also shared that there were worries he felt when he became a mother. What's the story like? Check it out on the next page, Mother.
Mother, come on download Allo Bank digital app here. Get 10 percent discount and cashback 5 percent.
Don't forget to also watch the video tips on training fine and gross motor skills for the following deaf children:
[Gambas:Video Haibunda]