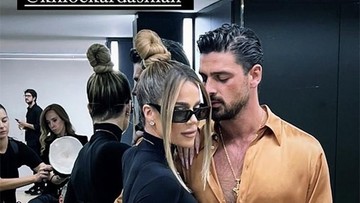 Newsdelivers.com, Insertlive –
Actor Michele Morrone who recently became popular thanks to his role in adult films 365 Days rumored to be dating Khloe Kardashian. The issue started when the two were caught making out at Milan Fashion Week.
Michele Morrone also provides clarification. Through a representative, the actor stated that there was no special relationship between himself and the woman from the Kardashian family.
"There is no special relationship between the two that needs to be told to the world. However, Michele feels, Khloe is a good person," said Michele Morrone's representative, quoted from AceShowbiz on Thursday (29/9).
Regarding the intimate photo that was circulating, Morrone's representative stated that the pose was only limited to work. Morrone and Khloe are said to have been asked to take a photo together by the Dolce & Gabanna team.
"Both of them were asked to take a photo together by the D&G team (Dolce & Gabbana). So, their photo was an obligation," he explained.
Khloe Kardashian's love life is in the spotlight, especially since she recently broke up with her boyfriend, Tristan Thompson, who is suspected of having an affair. This made many people even more convinced that Khloe was dating Morrone.
Until now Khloe Kardashian has not spoken about the issue of dating Michele Morrone after splitting with Tristan Thompson.
(yoa/and)