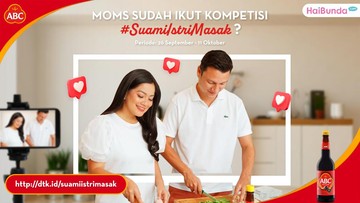 Cooking with your husband can also make you get millions of rupiah in prizes. It's free by joining the ABC Soy Sauce Challenge Period 3 #SuamiIstriMasak.
Newsdelivers.com – To make your relationship with your husband more romantic, there's nothing wrong with spending more time alone. There are many fun activities that you can do with your husband, one of which is cooking together.
You can invite your husband to cook with his favorite menu. Or you can directly specify the menu to be cooked such as beef stew. This food menu is quite suitable to be cooked with your husband.
In order to cook beef stew more compactly, Mother and husband can share the task. Mother can play her job to mix spices. Meanwhile, the husband can help to cut the meat to be cooked.
Here are the ingredients and how to cook a special beef stew.
Materials Materials
• 500 g beef brisket or beef brisket
• 3 potatoes, peeled, cut into 4 parts
• 3 boiled chicken eggs, peeled
• 2 bay leaves
• 2 cm galangal
• 3 cm cinnamon
• 1 tomato, chopped
• 100 ml ABC sweet soy sauce
• 1 tbsp mushroom broth
• 1 liter air
Ground spices
• 7 red onions
• 4 cloves garlic
• 4 hazelnuts
• 1/4 grain nutmeg
• 1/2 tsp peppercorns
• 20 g brown sugar
• 2 tsp salt
• Distribution:
• 2 tbsp fried shallot
Cooking method
• Fine Seasonings: Process all the ground spices in a blender with a little oil to make them smooth. Or grind it with a pestle.
• Heat 3 tablespoons of oil, saute ground spices until fragrant.
• Enter the bay leaf, galangal and cinnamon, stir until the spices are cooked.
• Add pieces of meat, cook until stiff and change color then remove.
• Put in a saucepan, add water, ABC sweet soy sauce and mushroom broth and bring to a boil.
• Add tomatoes, eggs and potatoes. Cook over low heat until the spices are absorbed and the gravy is slightly thick then remove from heat.
• Sprinkle with fried shallots and serve.
Besides being able to create meat stews with a special taste, cooking with your husband can also make you get a free million rupiah prize by participating in ABC Soy Sauce Period 3 #SuamiIstriMasak.
You can get this opportunity by participating in Kecap ABC Period 3 #SuamiIstriMasak starting September 26 – October 11, 2022. There are prize vouchers of IDR 1 million each for the 3 main winners and prizes of IDR 500 thousand each for 2 favorite winners who can win. Mother get.
Want to know the terms and conditions? Come on, see the following information, Bun!
Terms and conditions
1. Upload a photo or video that shows when your husband helps mom cook in the kitchen.
2. Participants must mention and tag Instagram accounts @kecapabc.id, @haibunda, your husband/wife and 3 friends to follow, include the hashtags #SuamiIstriMasak and #KecapABC.
3. Participants must ensure that their Instagram account is not in private mode.
4. Write a caption in the form of a story behind your uploaded content about how your husband / mother can collaborate with each other to create a warm atmosphere in the kitchen.
5. Repost the @kecapabc.id IG Feed post on pin number 3 (far right) to the participant's instastory.
6. Participants are prohibited from posting photos and writing captions that contain negative elements, racial intolerance, discredit certain groups, violate decency, offend the ABC Kecap Brand or any party and can cause conflicts and violate provisions based on applicable laws and regulations.
7. In the event that the participant violates these terms and conditions, it will be considered void.
8. Participants who are included in the qualification are participants who follow the applicable terms and conditions, including Indonesian citizens who have identity cards (KTP/SIM/KTA/KK).
9. Participants who are selected as winners are required to sign the winning certificate which will be sent after the announcement of the winner.
10. Competition period: 26 September – 11 October 2022.
11. Winners will be announced on October 13, 2022 on Instagram accounts @haibundacom and @kecapabc.id
12. Winners will be contacted via DM (direct message) from HaiBunda's Instagram.
13. The decision of the organizer is absolute and cannot be contested.
14. Prize tax is borne by the winner.
15. Prizes cannot be cashed in whole or in part or transferred in any way.
16. For more information, you can send an email to [email protected] with the subject: ABC Ketchup Challenge
(adv/adv)