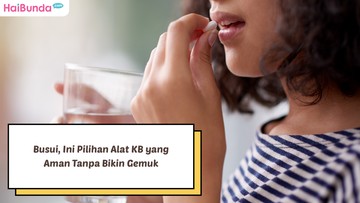 |
Haibunda

Wednesday, 28 Sep 2022 20:35 WIB
One of the things that Busui often complains about when using certain birth control devices is gaining weight. Choosing a contraceptive that is safe and doesn't make you fat is the desire of many Busuis out there. Mothers don't need to be confused about choosing a birth control device because every woman has their own suitability.
Regarding why birth control devices can cause obesity in some Busuis, that is due to higher estrogen levels in some hormonal methods which can make people feel hungrier. When they eat more, they can definitely gain weight.
Well, here Bubun will provide information about family planning that is good for breastfeeding mothers and does not make you fat. Watch the video, come on!

Share yuk, Bun!