Suara.com – Like a time machine, sometimes we are made to reminisce when we see old school photos aka old times. For example, like the following portrait of a high school student.
Yes, some time ago an Instagram account re-uploaded an old school photo of a SMEA student while in class.
Several students seemed to be sitting on chairs while busy following the lesson and using a classic old-fashioned typewriter.
Uniquely, not a few netizens were then made to fail to focus when they saw the hairstyles of most of the students in the old photo.
Read Also:
Successfully enchanted, this is how Marion Jola looks on stage wearing a kebaya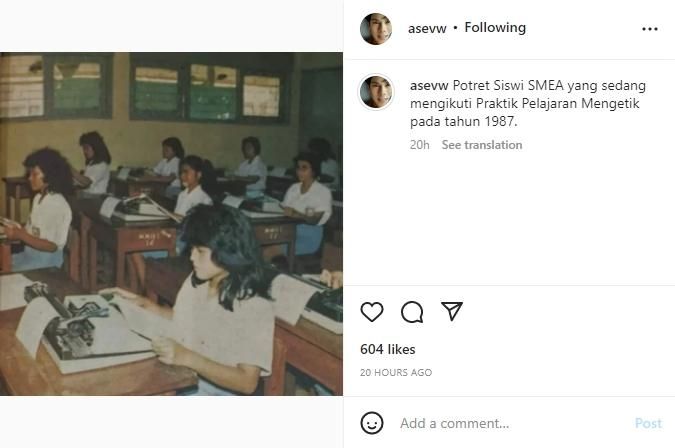 Collected from page Hitekno and the Instagram account @asevw, the old school photo of the SMEA student was taken in 1987.
"Portrait of SMEA students who were taking typing lessons in 1987," wrote the upload caption.
From this old photo, you can see the classroom atmosphere at one of the SMEAs in 1987. A number of students were then focused on learning to type using a typewriter at their respective desks. In its time, this writing aid was so popularly used.
Nostalgic with the typewriter in this old photo, a number of netizens were also busy highlighting the hairstyles of the 1987 SMEA students. The netizens left comments after the upload went viral on Instagram.
"Megar's hairstyle in those days was very special" wrote one of the Instagram users.
Read Also:
Police Secure Four Suspected Beaters of Junior High School Students in Makassar
"Feels really cool" replied another netizen.
"The hair style is the same, punk rock style," commented another account.
"Oh my gosh, it reminds me of high school," said one netizen.
Viral on Instagram, this old school photo of an SMEA student in 1987 has received more than 600 likes and hundreds of replies from netizens after being uploaded by the @asevw account.
(Hitekno/Amelia Prisilia)