Newsdelivers.com
–
The more the Little One's subject matter is at school, the more diverse it is, Mother. Not only mathematics and Indonesian, art lessons are also starting to develop. One of them, namely learning about decorative images.
Usually decorative images are often used as material for fine art when the little one is in 3rd grade. Excerpted from the book Crafts & Arts 3 Elementary Schooldecorative drawing is drawing decorations that do not need to be exactly the same as the imitated and so simple.
Decorative art can be seen, touched and visually shaped. So what are the elements and functions of decorative images?
The following Bubun helps summarize the elements, functions, and steps for decorative drawing as reported by various sources:
Decorative picture elements
Elements of decorative images must be known in order to draw well.
1. Point
The point is included in the element in the decorative image that has the smallest size. So, a decorative image can consist of dots that make up a fine art.
2. Line
In addition to points, lines are also included in elements in decorative images. The line comes from the point elements which are then combined to form a line.
3. Field
This one element is obtained from the meeting between the ends of the line which then forms fine art.
4. Form
Form is an element obtained from the combination of fields in an art. Examples of shapes include oval, round, regular, and others.
5. Color
The color element is a constituent of other elements such as points, lines, planes, and shapes.
6. Texture
Texture is an element that is a form of surface that can be seen and touched.
Types of decorative image motifs
Decorative art can be made with various forms of motifs such as geometric motifs and stylization. Geometric motifs reflect order and balance in terms of shape and size.
Examples of geometric motifs are triangles, rectangles, pentagons, hexagons, circles, and others. Furthermore, stylized motifs in decorative images are motifs drawn with shapes from various styles so that they resemble natural shapes.
An example of a stylized motif is an illustration of nature in which there are animals, plants, and humans.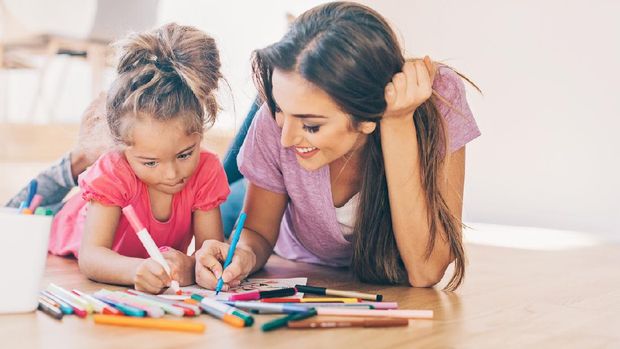 Decorative drawing illustration/Photo: Getty Images/pixelfit
Decorative image function
Making decorative arts consists of shapes that have been styled and then placed on the plane of an ornamental object. Its function is to make objects look more beautiful. The beauty of decorative arts comes from the composition, line, color, and shape of the motif.
The function of decorative images is also to beautify an object such as a room and building to make it look closer. In addition, decorative arts can train skills and creativity in making the appearance of an object more attractive.
Decorative arts can increase knowledge about decorating rooms, buildings or other objects so as to increase the selling value of these objects.
Decorative drawing steps
The step in decorative drawing is to determine and choose the concept to be created. For example, choosing a geometric or stylized motif.
Next determine the media that will be used in making decorative arts. Then draw directly on the media according to the selected motif. Pay attention to the shape and size to balance.
If you use a stylized motif, then create it as best you can so that the results are more attractive. Avoid giving too much color, adjust it to your needs.
This is an explanation of the elements and functions of decorative images. I hope it's useful, Mom.
Mother, come on download Allo Bank digital app here. Get a 10 percent discount and cashback 5 percent.
Also watch the video that causes children to be stingy and difficult to share the following:
[Gambas:Video Haibunda]
(for/for)