Suara.com – Komika Soleh Solihun revealed the practice of illegal levies or extortion in the Samsat Polda Metro Jaya. He discovered the extortion practice when he took care of the five-year renewal of the Vehicle Registration Certificate or STNK.
Soleh via his Twitter account @solehsolihun said that at that time he was asked for money worth Rp. 30,000 by the vehicle physical check officer.
"Extend STNK 5 years. At 8 am to Samsat at Polda Metro, immediately check physically, pay 30 thousand. After physical check, the motorbike is parked, I wait in this room. At 8.13, the file is received. Continue on the 4th floor," wrote @solehsolihun quoted Suara.comTuesday (27/9/2022).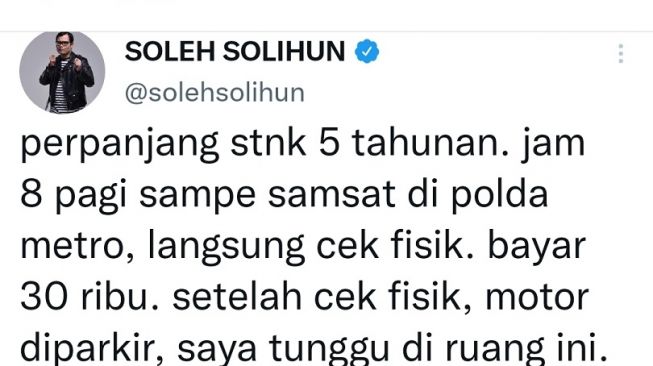 After chirping on Twitter that went viral regarding the existence of a physical check fee of Rp. 30,000, Soleh was contacted by AKP Mulyono. To Soleh, Mulyono admitted that he was the Head of the South Jakarta Samsat and wanted to clarify.
Read Also:
Physical Check Should be Free, Soleh Solihun Gets Extortion Paying Rp. 30 thousand, Bosses Directly Step Into 'Jewer' Persons
"Pak Mulyono has been trying to contact me since this morning and said this:
'Good afternoon, Mr. Soleh, I am Mulyono, the Head of the South Samsat Unit. Permission to meet Mr. Soleh… want to clarify, sir, regarding Mr. Soleh's tweet.
To Soleh, Mulyono said that there is no physical check fee or free. He argued that the Rp30 thousand extortion was the work of an individual.
"The case of Rp. 30,000 for physical checks, turned out to be the work of an individual. Just now, AKP Mulyono, Kanit Samsat, South Jakarta, came to me and apologized for the behavior of the person (next to me) and said that the person would be punished. Pak Mulyono once again made sure: free physical check!, "Said Salih.
For this, Soleh also asked the Polda Metro Jaya to make an information board explicitly stating that there is no charge for physical checks.
"Hopefully Pak Mulyono's good intentions to clean up extortion from Samsat can continue. I gave you a suggestion: put an announcement at the physical checkpoint that reads: "Physical Check, Free," he said.
Read Also:
Mysterious suitcase lies on the sidewalk in front of the main gate of the Polda Metro Jaya, Brimob intervenes
Suara.com journalists have tried to contact the Director of Traffic of the Polda Metro Jaya Kombes Pol Latif Usman regarding the extortion case. However, until this news was broadcast, the person concerned had not responded.