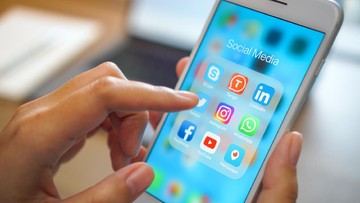 Newsdelivers.com
–
WhatsApp has connected almost everyone around the world, Mother. How not, WhatsApp itself is rated as one of the most widely used messaging applications.
By using WhatsApp, you can exchange messages with someone either by text, video, image, voice, phone calls, even video calls.
This application does have a variety of features. However, along with the development of increasingly sophisticated technology, Whatsapp brings many other new features that people rarely know about.
Not only that, the WhatsApp application has also been equipped with encryption end-to-end, which means that WhatsApp will not know what the user's chat contains. However, WhatAapp can block someone's account if they send content that is prohibited by Whatsapp, namely copyrighted content.
Just like other applications, WhatsApp always improves its performance so that it never goes out of fashion, Mother. Because of that, the application which was first launched in 2009 has always done upgrade.
Considering this, WhatsApp had previously announced that it would start blocking some users. This blocking will begin on October 24, 2022.
Not without reason, the WhatsApp application will only support a number of devices for iOS or Android users, Mother.
WhatsApp will automatically block users who are using an older version of the iPhone. WhatsApp can only be used for iPhones running iOS 12 or later, and Androus OS 4.1 or later,
WhatsApp has also confirmed this, Mother. WhatsApp says that every year it will review and discontinue older versions of the software and have the least number of users.
"Like other technology companies, we annually review which devices and software are the oldest and have the least number of users to determine what support will be discontinued," WhatsApp wrote. ).
The mentioned devices either don't have the latest security updates or may not have the functionality required to run WhatsApp. Users using WhatsApp on iOS 10 or iOS 11 will need to update to iOS 12 to continue using the messaging app, Moms.
Users who can still use WhatsApp on iOS are iPhone 5S, iPhone 6, and iPhone 6S. However, users still have to update their iOS to the latest version.
So which iPhone devices can no longer use WhatsApp?
CONTINUE READING CLICK HERE.
Mother, come on download Allo Bank digital app here. Get 10 percent discount and cashback 5 percent.
Don't forget to watch the video on how to check WhatsApp messages that have been read even though the blue tick is turned off below:
(first/first)