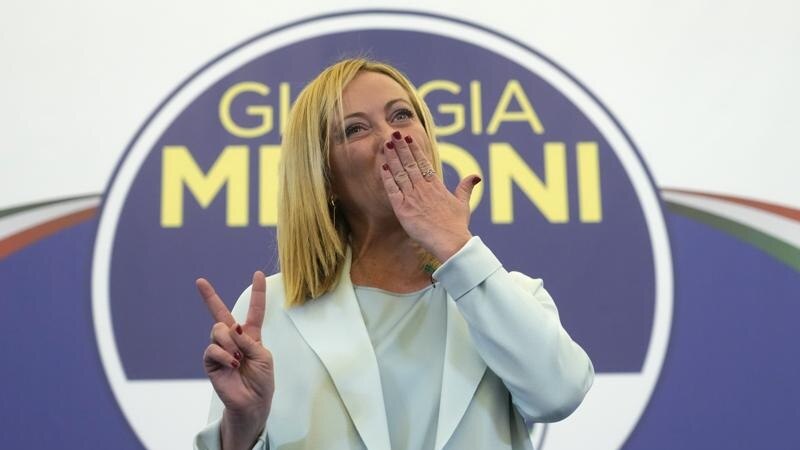 Rome Italy –
"Finally there is a change, because how many years have passed since there was a change. Finally we have a new leader. Hopefully, this figure's actions are coherent with his words. We are waiting!" said Valerio Reali, a student.
While a housewife, Federica Piccharillo said, "I did not vote for him (Meloni.red) because I am not a supporter of the right group. But that doesn't mean this country – once again – wants to show rebellion. I think Letta's political campaign (leader of the Democratic Party.red) is completely wrong, she is not the right person. I regret that some Italians voted for him, because obviously he will lose."
Here are some of the reactions of Roma on Monday (26/9) to the results of a national election that looks set to produce Italy's first right-wing government since the Second World War.
Valerio Reali, who is still a student and Federica Piccharillo, who is a housewife, were both surprised by the election results. Especially with the possibility of Giorgia Meloni becoming the first female prime minister in Italy.
Right-wing Italy is shifting Europe's geopolitical realities, putting Euro-skeptic parties into a position to lead the European Union's founding members and the bloc's third-largest economy.
Meloni's win lauds Europe's far-right leaders
Right-wing leaders across Europe were quick to praise Giorgia Meloni's victory and his party's meteoric rise, sending a historic message to Brussels.
The near-final vote count shows the centre-right coalition garnering around 44% of the parliamentary vote, with the Party Brother's of Italy Meloni's leadership won about 26% of the vote.
His coalition partners got the rest, with Matteo Salvini's anti-migrant league grabbing nearly 9% and the more moderate Forza Italia led by former prime minister Silvio Berlusconi with around 8%.
The centre-left Democrats and their allies garnered about 26%, the 5-Star Movement – ​​which had been the biggest voter in the 2018 parliamentary elections – garnered around 15%.
The turnout was the lowest in Italian history at 64%.
Surveys show voters are staying at home as part of the protests and at the same time disillusionment with the behind-the-scenes deal that has created three governments since the previous election.
Meloni's Main Agenda: Lower Electricity & Gas Costs
Meloni, whose party has origins in the neo-fascist Italian Social Movement, was moderate and called for unity in his victory speech Monday morning, saying Italians could finally be clear on who they want as leader.
Lowering electricity and gas bills, as well as changing the Italian constitution, were two of the main agendas of the "Brothers of Italy" Party as they contemplated the formation of a new government. Hours after Meloni spoke with the centre-right coalition heading for election victory, politicians from those parties spoke to the media about their plans for the future.
Senator Luca Ciriani said their top priority was to review the country's finances and see what could be done to resolve the issue of high electricity and gas bills.
"It is clear to everyone that the issue of electricity and gas bills is an emergency and we have to look at the state of public finances, then start thinking about what we are going to do. Our priority now is to settle the electricity and gas bills, after that we review everything else based on the available resources," said Luca.
Meanwhile, one of Meloni's closest advisers, lawmaker Francesco Lollobrigida defended his party's close ties to Hungary, saying that regardless of relations with Hungary or France, the Brothers of Italy would always look at issues and relationships with a "lens of national interest." He also answered questions about the urgency of constitutional reform, as the Brothers of Italy hoped to amend Italy's constitution, which was written in 1947 when the country emerged from the Second World War.
Government Formation Predicted to be tough
While the centre-right is clearly the winner, forming a government is still weeks away and will involve consultations between party leaders and President Sergio Mattarela. Meanwhile, former prime minister Mario Draghi will remain in office.
The government led by Meloni is expected to continue with Italy's current foreign policy, including a pro-NATO stance and strong support for supplying Ukraine with weapons to defend against the Russian invasion; although its coalition allies signaled a slightly different policy.
Berlusconi and Salvini – former prime minister and former deputy prime minister – have close ties to Russian President Vladimir Putin. Although both have distanced themselves from Russia's invasion of Ukraine, Salvini has warned that sanctions against Russia would hurt Italian industry. Berlusconi has even condoned Putin's invasion, as did the pro-Russian separatists in the Donbas.
Political scientist and writer Sofia Ventura said she did not believe the relationship in Meloni's coalition would be "simple."
"I firmly believe the internal relations of the right-wing coalition will not be simple, but we have to make a premise by asking ourselves – how long will Salvini last. Perhaps this is like the formation of a government in the short term, it will probably play an executive role, albeit more marginally than he would like. I'm sure neither Meloni, nor Mattarella, will give Salvini any of the positions, such as the Ministry of Home Affairs. But I believe more in the results, Salvini's League Party won below 10% of the vote which is certainly a little below the threshold, which calls into question Salvini's leadership," he said. [em/jm]