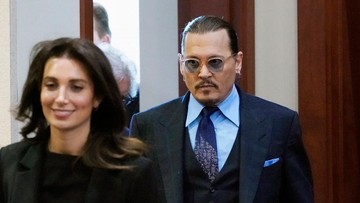 Newsdelivers.com, Insertlive –
Johnny Depp is feeling in love again. He's dating
Joelle Rich, the lawyer who represented her when facing The Sun newspaper for defamation some time ago.
But in the midst of the romance issues that are sticking out, the latest news emerged stating that Johnny Depp was just messing with Joelle Rich. This information was revealed by a source close to Depp.
"The two of them are not serious about dating. They have no intention of living together as lovers at this time," said the source quoted from TMZ, Tuesday (27/9).
The source actually said Johnny Depp was dating a woman who was not Joelle Rich.
"He (Johnny Depp) was even seen dating another woman on the set of his latest film in France," he continued.
The source explained that Johnny Depp and Joellie Rich's visions are not the same when it comes to romance. Rich wants a serious relationship, while Depp just wants to have fun.
"He's Johnny Depp! He doesn't want to be in a serious relationship in the near future," said the source.
Previously, Johnny Depp was also widely referred to as a leader in Joelle Rich's household. Depp reportedly made the two children's lawyers intend to divorce her husband.
(yoa/fik)