Newsdelivers.com
–
As one of the fashion cities that is the basis for many fashion houses, it's no wonder that Milan Fashion Week spring/summer 2023 was lively and filled with creations and demonstration concepts that were often conceptual. Especially now that crowd activities are allowed again after previously being limited due to the pandemic. No wonder designers show their totality to present their designs.
From the presence of celebrities in runway, unique presentation concepts, to unexpected collaboration projects. Here are some exciting moments at Milan Fashion Week spring/summer 2023
1. Paris Hilton Becomes a Model on the Versace Runway Spring/Summer 2023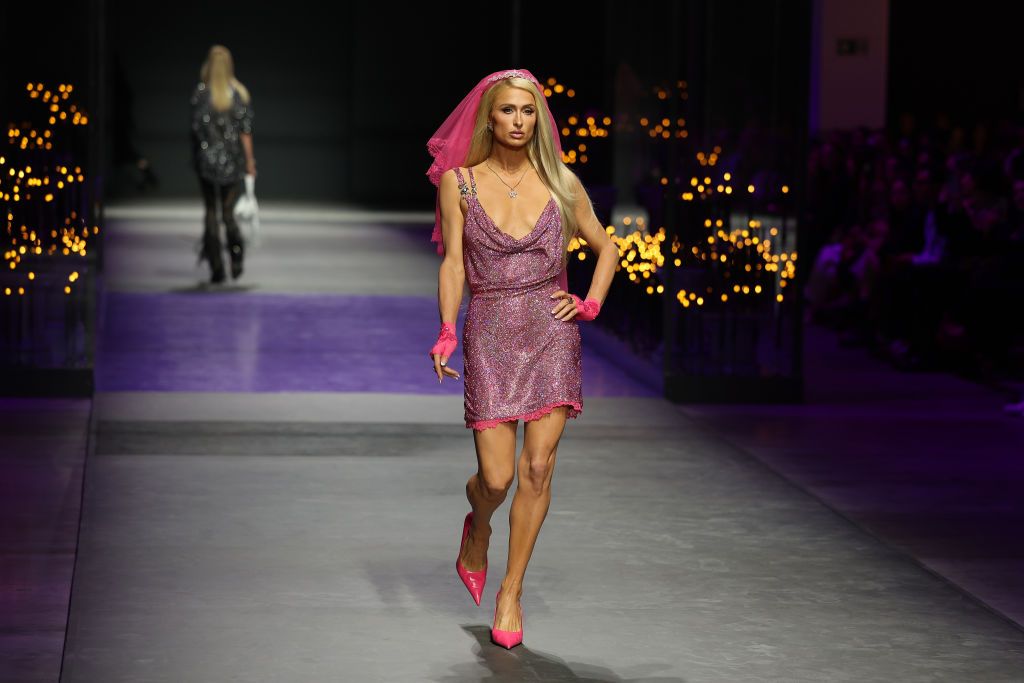 MILAN, ITALY – SEPTEMBER 23: Paris Hilton walks the runway at the Versace Fashion Show during the Milan Fashion Week Womenswear Spring/Summer 2023 on September 23, 2022 in Milan, Italy. (Photo by Vittorio Zunino Celotto/Getty Images)/ Foto: Getty Images/Vittorio Zunino Celotto
Paris Hilton was asked to be the closing model for the Versace spring/summer 2023 show. The multi-talented socialite appeared in a short pink dress that was identical to her appearance. Before Paris Hilton, Versace had also invited other celebrities to be models at fashion show namely Dua Lipa. Coincidentally, the singer was also clad in a pink dress as she walked the show for the spring/summer 2022 collection.
In terms of design, Versace's newest creation packs a gothic style so it's sexier and fierce through a row of colorful lingerie-style dresses and black clothes edgy like oversized jacket and flare pants.
2. Twin Model Parade at Gucci Spring/Summer 2023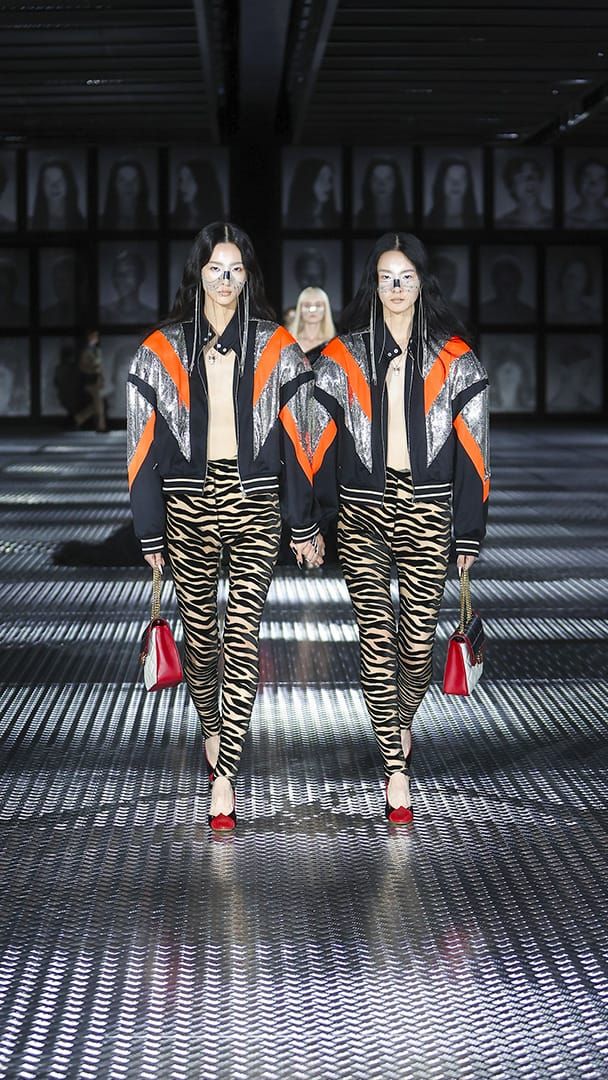 Gucci spring/summer 2023/ Foto: Courtesy of Gucci
Conceptual and dramatic has always been the theme of Gucci presentations. For the spring/summer 2023 collection, Alessandro Michele as creative director realizing his design fantasy called Twinsburg by featuring twin models.
3. Kim Kardashian's Collaboration with Dolce & Gabbana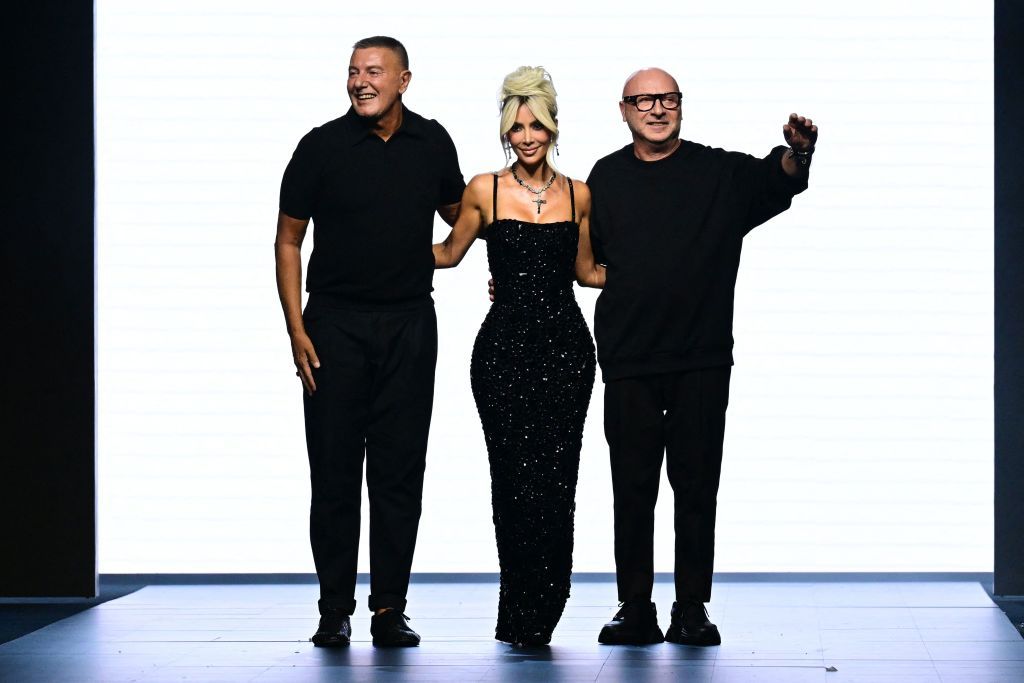 Italian fashion designers Domenico Dolce (R) and Stefano Gabbana acknowledge applause with US media personality Kim Kardashian at the end of the presentation of Dolce & Gabbana's Women's Spring Summer 2023 fashion collection on September 24, 2022 as part of the Fashion Week in Milan. (Photo by Miguel MEDINA / AFP) (Photo by MIGUEL MEDINA/AFP via Getty Images)/ Foto: AFP via Getty Images/MIGUEL MEDINA
Kim Kardashian is partnered with Dolce & Gabbana as a collaborator. Kim acted as curator to select a number of looks from the old collection of Dolce & Gabbana from 1987 to 2007.
Kim said to Vogue that the beginning of his collaboration with Dolce & Gabbana occurred thanks to Kourtney Kardashian's wedding to Travis Barker. Kim was present with her vintage Dolce & Gabbana dress. After that he began to be approached by Dolce & Gabbana to collaborate.
The result is a row of clothes such as corset dresses, tops and skirts decorated with crystals, and leopard patterns that seem to dominate.
4. Child's Full Dress at Moschino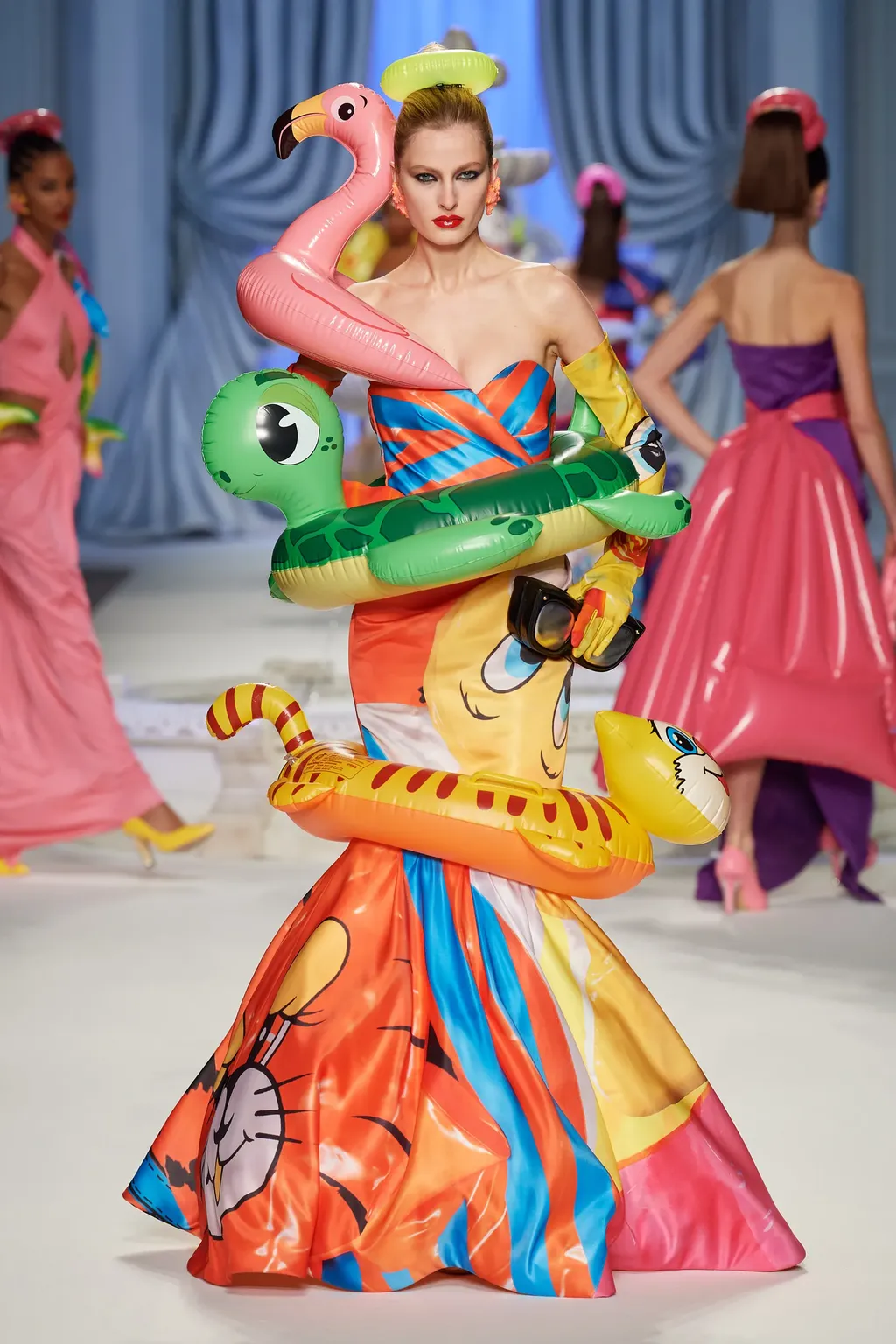 Moschino spring/summer 2023/ Photo: Isidore Montag / Gorunway.com/ Vogue
Design that playful has always been a highlight of Jeremy Scott's designs for Moschino. For the Moschino spring/summer 2023 collection, Scott displays a line of dresses decorated with adorable baby floats. Not just gimmick After all, there is an inspiration that is quite ironic behind it.
To Vogue, Scott admitted that he was inspired by the fear of inflation in today's society.
"Everyone is talking about inflation today. The increase in house prices, food, lifestyle. So I brought inflation into this collection," he explained.
For Scott, the buoy is like a symbol of hope in the midst of an uncertain economic situation.
"Sometimes we feel like we're drowning. I'm sure you have. I have too. But no matter what happens, we must still provide a place to be happy, right? The bleaker the situation, the more cheerful I will feel," he said.
5. Designer Debut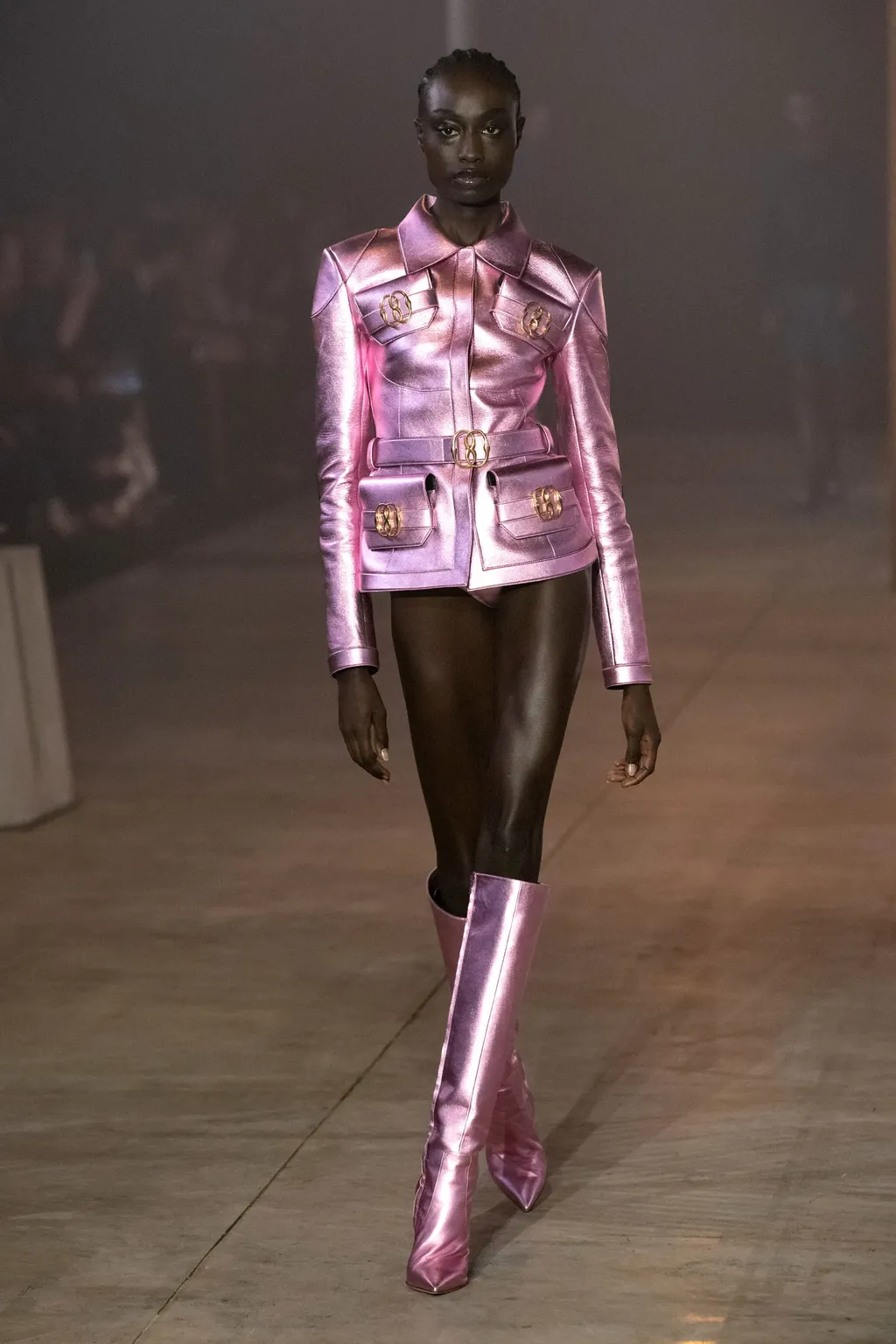 Bally spring/summer 2023/ Foto: Daniele Oberrauch / Gorunway.com
Milan Fashion Week spring/summer 2023 will also mark the debut of four designers at a well-known fashion label. Maximilian Davis is ready to change the classic image of Ferragamo to be more modern and sexy by playing with materials such as suede suits and transparent dresses.
Rhuigi Villaseñor presents a sexy and provocative collection for Bally. Then Filippo Grazioli, Missoni's new creative director, chose to play with asymmetrical cuts and transparent materials. And Marco Vincenzo made Etro's bohemian style look more casual and youthful. The four of them succeeded in bringing new energy not only to the labels they supervise but also to Milan Fashion Week.
6. Demonstration in the Rain at Jil Sander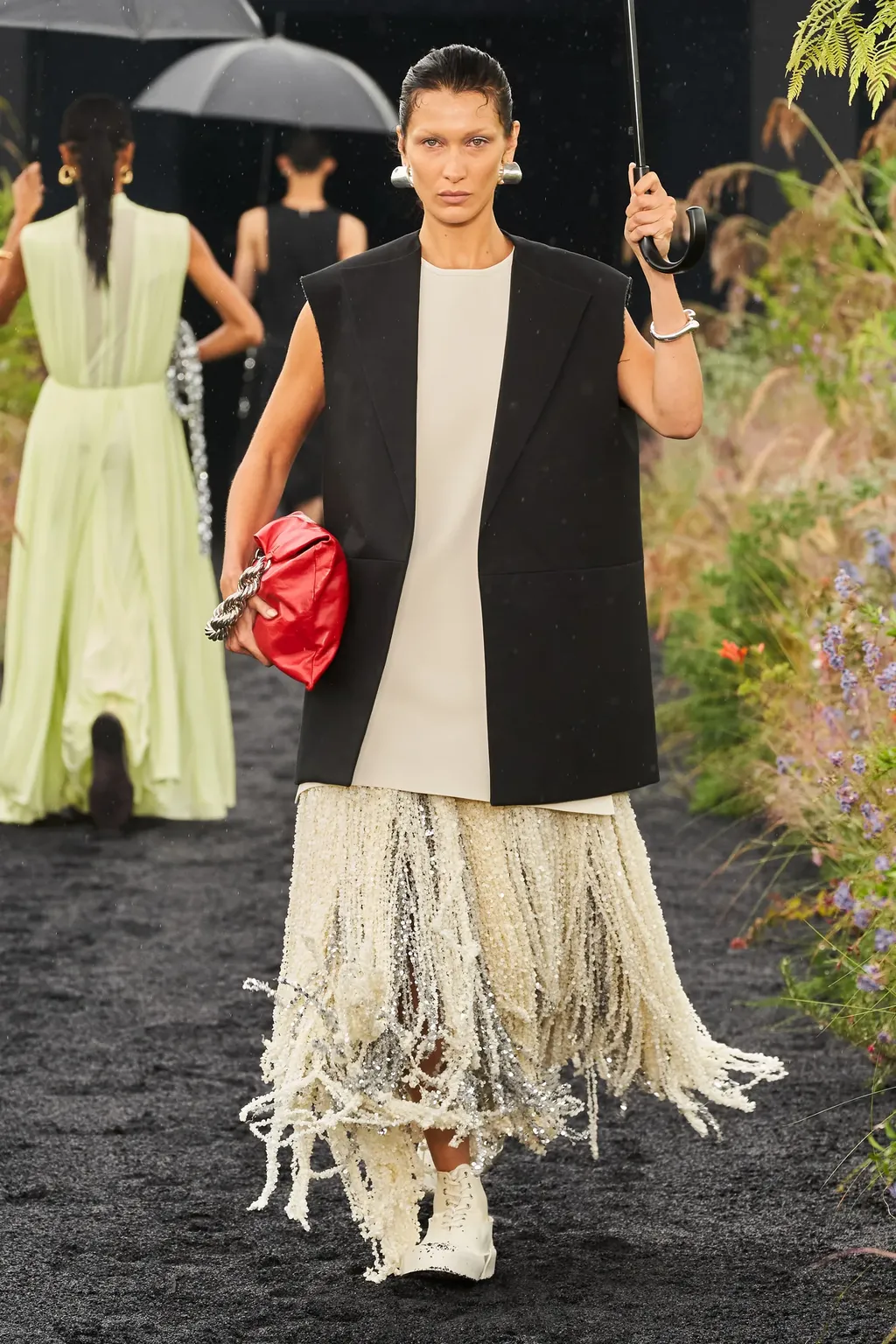 Jil Sander spring/summer 2023/ Photo: Alessandro Lucioni / Gorunway.com/Vogue
The rain didn't stop Jil Sander's label from doing fashion show. Taking place in an open area, the minimalist-style label also provides its models with umbrellas. Many praised the action of Jil Sander. Because it's not uncommon for brand choose to display the model even though it is raining either because of lack of preparation or intentionally to give a dramatic impression.
7. The Secret Behind Bottega Veneta's Flannel Shirt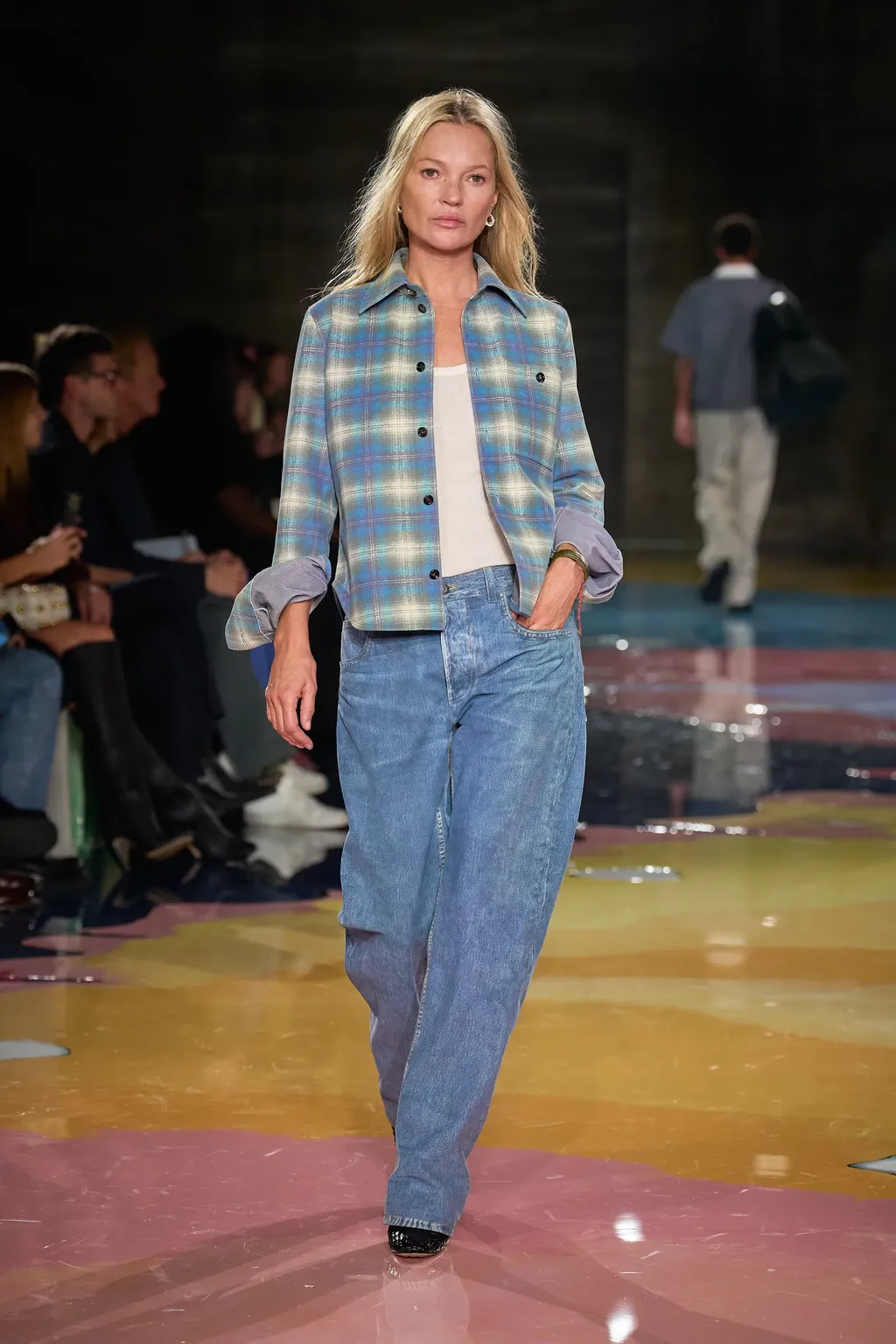 Bottega Veneta spring/summer 2023/ Foto: Filippo Fior/Gorunway/Vogue
Not only Kate Moss's appearance that stole the attention at the Bottega Veneta show but also the clothes she wore. It looks simple, it turns out that the shirt is not flannel but made of material leather. Launching from Voguethere are 12 layers of motifs to make the shirt look like a flannel.
—
Want to be one of the readers who can take part in various exciting events at Beautynesia? Let's join the Beautynesia reader community B-Nation. The method REGISTER HERE!
(raf/raf)