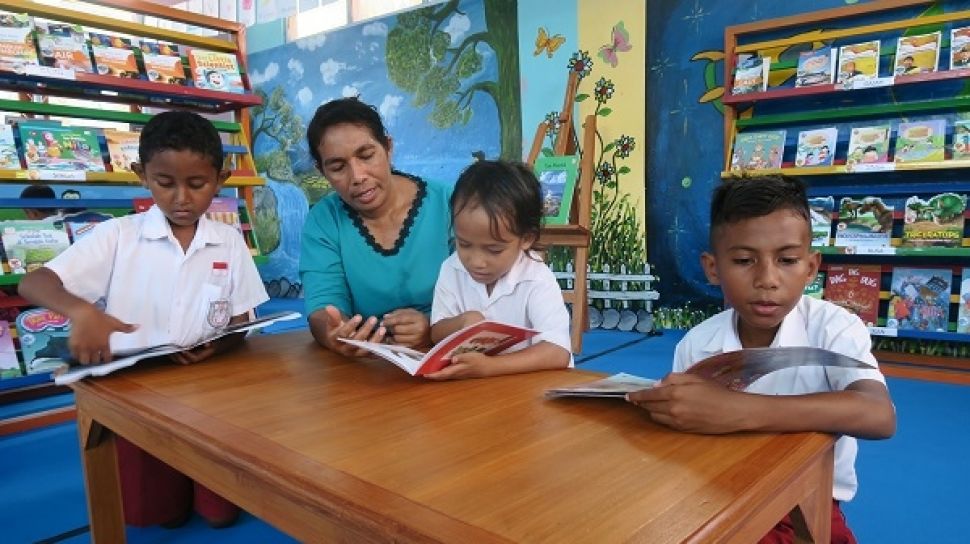 Suara.com – Rainbow Reading Gardens established a multi-stakeholder collaboration with Room to Read, the Nagekeo Regency Government, 56 elementary schools, and parents of students to create 56 child-friendly libraries in elementary schools in Nagekeo Regency, Flores, East Nusa Tenggara.
A total of 6,300 children in Nagekeo District can now enjoy the new child-friendly library at their school.
In addition to the establishment of libraries in schools, as many as 567 teachers and principals in 56 elementary schools also received training on library management systems and various literacy programs to develop children's reading habits.
"Education is one of Nagekeo Regency's highest priorities. The Nagekeo Regency Government is grateful for the contribution and concern of Rainbow Reading Gardens and Room to Read towards increasing children's interest in reading in this area. The existence of a child-friendly library will have a positive impact on the literacy skills of children in Nagekeo. We also appreciate the school, parents, and the village community for their extraordinary cooperation. We do all this to improve the quality of children's education and their future," said the Regent of Nagekeo, dr. John Don Bosco Don, M.Kes. at the Press Conference held online, Tuesday (27/9/2022).
In Indonesia, data from the 2019-2020 Education Statistics released by the Ministry of Education, Culture, Research and Technology shows that the number of school libraries is still uneven. Of the 148,673 elementary schools, more than 50,341 elementary schools do not yet have a library and the majority are located in the eastern part of Indonesia.
Data from Education Statistics 2019-2020, the physical condition of school libraries is still good, only in 13,927 elementary schools, the rest are lightly, moderately, and severely damaged.
Not only that, from schools that already have libraries, not all libraries function and are used by children. In fact, a well-functioning school library will greatly support the improvement of students' reading skills at the school.
Director of Strategic Expansion Room to Read, Joel Bacha, said, "Room to Read has partnered with Taman Bacaan Pelangi since 2014. We are proud to see the development and commitment of Taman Bacaan Pelangi which continues to work hard to develop the reading habit of children in remote areas in Indonesia. East, including in Nagekeo Regency. Eastern Indonesia region has its own uniqueness. We are happy for the establishment of this multi-stakeholder collaboration for the sake of increasing the literacy of children in Nagekeo Regency."
"This is the first time that Rainbow Reading Gardens has implemented a multi-stakeholder partnership model, in which all parties contribute financially. We believe that a model like this is a sustainable library good practice. We hope that these 56 child-friendly libraries can serve as examples that other elementary schools can apply to, both in Nagekeo Regency and other areas in Indonesia," said the Founder of Taman Bacaan Pelangi, Nila Tanzil.
The 56 child-friendly libraries spread across primary schools in six Nagekeo sub-districts are located in Aesesa, South Aesesa, Boawae, Mauponggo, Nangaroro, Keo Tengah, and Wolowae sub-districts.