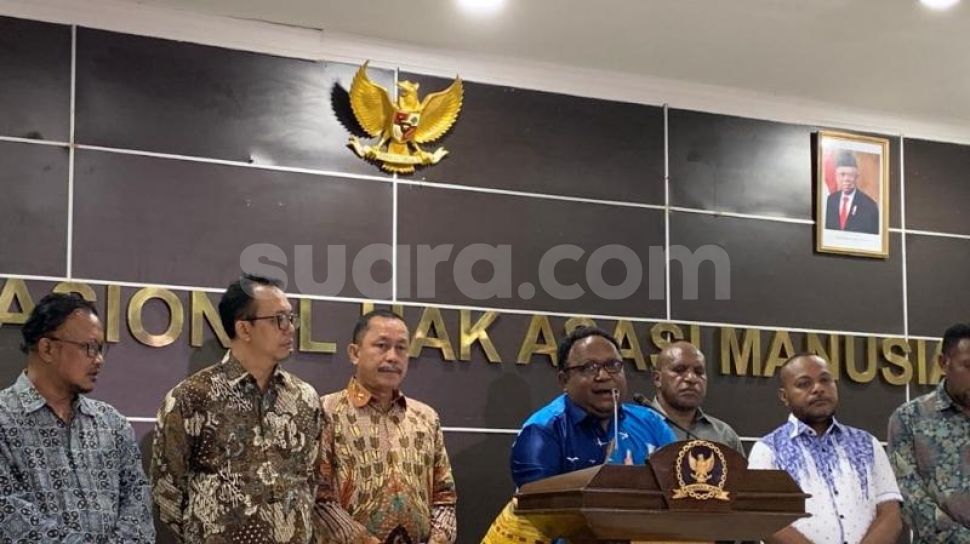 Suara.com – A member of the Papuan House of Representatives, John NR Gobai, was reluctant to comment on the behavior of Papuan Governor Lukas Enambe, who was said to be fond of gambling in foreign casinos.
On Monday (26/9/2022), John together with the Papuan People's Coalition came to the National Human Rights Commission (Komnas HAM) asking that the Corruption Eradication Commission (KPK) be encouraged to pay attention to Luke's human rights as a suspect.
Since his status as a suspect, he has not complied with the summons for examination by the KPK. When meeting with the Komnas HAM commissioners, they unitedly requested that the agency encourage the KPK to pay attention to the health rights of Lukas, who was reportedly ill.
However, when asked to comment on Luke's behavior in gambling at overseas casinos, John declined to comment. In the findings of PPATK, it was found that Lukas Enembe's gambling transactions were worth Rp. 560 billion.
Read Also:
Lawyer Claims Papua Governor Lukas Enembe Plays Gambling in Singapore Using Personal Money
"As for the other related matters, I think it is not my domain to answer the one (casino gambling)," John told reporters at Komnas HAM.
He said the one who could comment on this was Luke Enembe's attorney.
"The lawyer has also spoken, so I think it will be the lawyer who will answer, we are only conveying the existing conditions and our concerns about the impact that will arise," said John.
As a member of the Papuan People's Representative Council, John denied that Governor Lukas had committed corruption as alleged by the KPK.
"We also conveyed several statements regarding our corruption of special autonomy funds. We used the funds, we were the Papuan DPR who arranged their use. We used them in accordance with the mandate of the law. So it would be wrong if we were called extraordinary deviations," he said.
Read Also:
DPRP Asks for Transparent Legal Process for TNI Persons Perpetrators of Mutilating Papuans, Disrespectfully Fired
He also mentioned that the narrative that stated Lukas Enembe was corrupt is an opinion that states that the Papuan people are unable to develop their own region.