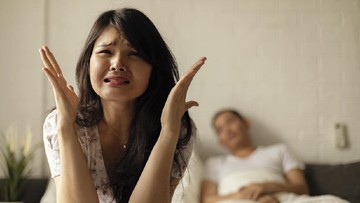 Problems related to sexual life should not be ignored. Mother must understand the boundaries of the problem between what can be tolerated and those that need resolution. If allowed to drag on, it can disrupt the marriage, you know.
Talking about sex may still be taboo for some people, even though it is important for husband and wife to be able to talk about it openly. Especially if there are parties who feel disturbed.
Silent sexual problems can affect domestic harmony. Furthermore, this is certainly not good for the physical and mental health of the couple.
Sex life problems that should immediately be consulted to a sexologist
Quote from Marriage and Lybrate, these are some of the problems of a couple's sex life which are 'red flags' and should be seen by an expert immediately. If you find this problem, don't underestimate it, Mother.
1. Erectile dysfunction
One of the sexual problems couples who must immediately see a doctor or sexologist is experiencing erectile dysfunction. The inability to hold an erection can cause severe stress in men.
However, most cases can be cured. A sexologist can help patients get their sex life back to normal.
2. Experiencing pain or discomfort during sex
If one partner experiences pain during or after sex, the experience can be traumatic. Painful intercourse is caused for many reasons including infection, stress, ulcers, or vaginal dryness.
Mom and Dad can consult a sexologist about this, It is very important to consult a doctor instead of lingering with the infection and suffering in silence.
3. Loss of interest in sex
Sudden loss of interest in sex can affect a marital relationship. Having trauma after giving birth or experiencing abuse can mean you may lose interest in sex.
Immediately consult a sexologist if you experience a decrease in sexual desire. A sexologist can work on relationship and intimacy issues to provide self-guided help so that you can achieve the best possible path in your sex life.
Continue reading the next page.
Mother, let's download the Allo Bank digital application here. Get 10 percent discount and 5 percent cashback.