Newsdelivers.com
–
Mother, fruit is indeed a fresh and delicious food. But to make it more delicious, now the fruit can be created so that it becomes more delicious to eat with the family. Currently, fruit creations have also been sold in various attractive and tempting packaging. Unfortunately, these products are not necessarily healthy, you know, mother!
To ensure maintaining the health of the family by enjoying various fruits that have been created, now after buying fruit at nearest fruit shopmother can try the following 4 delicious recipe creations:
1. Thai Banana Bread
Banana bread is a food that comes from the land of elephants. This first fruit creation recipe is also delicious and suitable for lunch. To make this Thai snack, it's easy and not difficult, you can try it right away.
Materials:
2 slices of white bread
1 banana (cut to taste)
1 egg (beaten)
2 tablespoons butter or margarine
Sweetened condensed milk
How to make:
1. Flatten the white bread with a pin or glass until smooth.
2. Arrange the banana slices on the bread.
3. Fold the bread according to taste (triangle or rectangle).
4. Press the edges of the bread so that it sticks or you can use an egg to glue it.
5. Dip and roll bread in beaten egg until completely coated.
6. Heat margarine in a non-stick frying pan, then cook banana bread until both sides are brown.
7. Pour sweetened condensed milk on the banana bread according to taste.
8. Lift and drain.
9. Banana Bread is ready to be served.
2. Oreo Nut Pizza
Does your family like oreos and pizza? If so, this one menu will be the right creation because mom will make pizza from Oreos! How to make it is also easy and not difficult. Don't forget the fresh fruits too, Mom.
Ingredients:
All kinds of fruit according to taste
2 counts
100 gram Oreo
50 ml cooking oil
Granulated sugar
Cheese to taste
How to make:
Mix the Oreos with the egg and vegetable oil in a blender until well blended.
Pour the mixture into the pan and smooth it out with a spatula.
Bake for about 25 minutes or until pizza crust is cooked through.
Remove the pizza crust from the pan.
Mix cheese and sugar and mix well.
Spread the cream cheese and sugar mixture over the pizza.
Sprinkle fruit on pizza as desired.
3. Please Panna Cotta
It seems that no one can resist the fresh and delicious taste of mangoes. You can make this one fruit as one of the desserts from Italy. Yes, panna cotta. Food that is usually a dinner dish can also be a snack enjoyed during the day. Let's see how to make it.
Ingredients:
Gelatin powder
Mango (cut into small pieces)
Air
Milk
Fresh cream
Sugar
How to make:
Layer 1:
Combine 1 teaspoon of gelatin and 3 tablespoons of water in a bowl and mix well.
Heat ingredients, add 1/2 cup fresh cream, 1/2 cup milk and 2 tablespoons sugar, and stir for 1 minute over medium heat.
Add the gelatin mixture to the saucepan and mix well.
Turn off the heat, then pour the mixture into a container and place it in the freezer for 30 minutes.
Layer 2:
Combine 1 teaspoon of gelatin and 3 tablespoons of water in a bowl and mix well.
Heat the stove.
Add mango pieces and cook until soft.
Add the gelatin mixture and mix until smooth.
Once mixed, pour the mixture onto Layer 1, and freeze.
4. Fruit Filled Pudding
The last menu of fruit creations is fruit filled pudding. Mother can make a soft pudding texture mixed and matched with the texture of various kinds of fruit for it. How to make it easy, let's try it.
But before that, make sure you choose fruit that is still fresh and ripe at the nearest fruit shop so that the fruit pudding becomes more delicious and suitable to be served for families and children.
Materials:
1 pack of jelly swallow
1 can Nutrijel Melon
Granulated sugar
900 ml of water
Cut fruit to taste
How to make:
Mix the agar-agar swalow, Nutrijel, water and sugar, then bring to a boil.
Pour some of the pudding solution into the mold.
Arrange the pieces of various fruits according to taste.
Pour the remaining pudding liquid over the fruit until it is covered.
Cool and ready to serve.
Those are some of the creations of snack recipes with basic ingredients using fruits. These processed foods will certainly be healthy if you buy fruit at the nearest fruit shop in a fresh and ripe state. This of course can ensure that the nutritional content is beneficial for the body of each family member.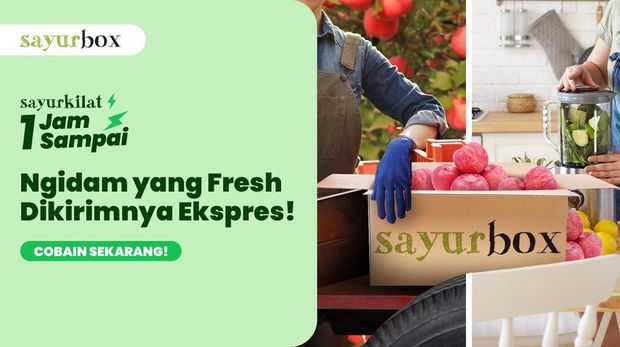 Photo: doc. Sayurbox
For this reason, mothers are advised to buy fruit at Sayurbox because of the reliable quality assurance. In addition, this application also provides a fast and practical shopping experience. Through Sayur Kilat, the fruits that you buy will be sent a maximum of 1 hour. Let's try the recipe!
(prf/ziz)