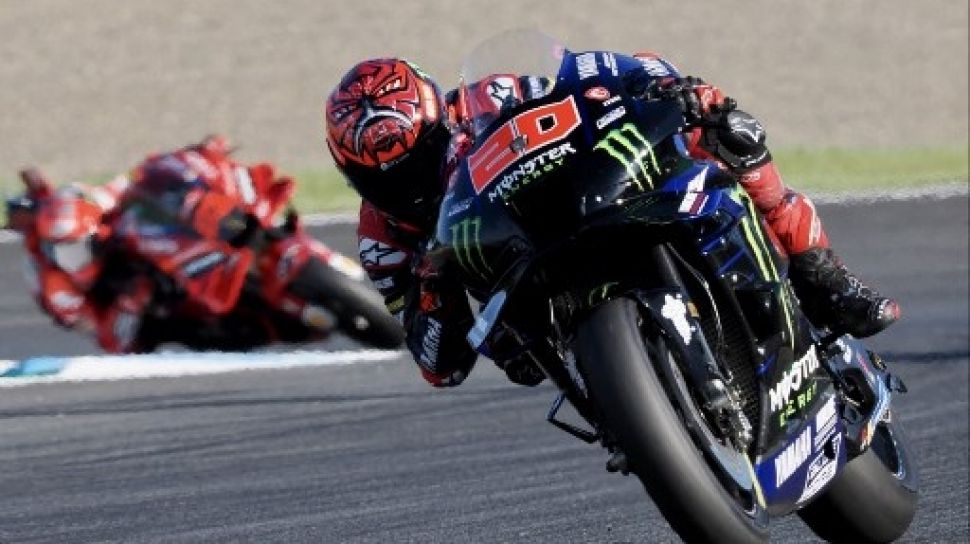 Suara.com – Yamaha's mainstay racer, Fabio Quartararo admitted that he could not enjoy racing at Motegi this time after he was only able to finish P8 in the Japanese MotoGP, Sunday (25/9/2022), without providing significant resistance.
Quartararo started the race from P9 following qualifying on the wet track at the Japan circuit and finished one position better after benefiting from Aleix Espargaro who had a technical problem ahead of the start that forced the Aprilia driver to return to the garage, change to a spare bike and start from the pit lane.
"I didn't enjoy a single moment in this race," Quartararo said as quoted by the official MotoGP website.
However, the French rider expanded his position as the leader of the 2022 MotoGP rider standings after his main rival, Francesco Bagnaia of the Ducati team, crashed on the last lap while trying to overtake him at Turn 3.
Read Also:
MotoGP Japan: Francesco Bagnaia admits he is too eager to chase Fabio Quartararo
With four races remaining this season, Quartararo is now 18 points clear of Bagnaia, and 25 points clear of Espargaro who failed to finish in the points zone today.
"You always take the positives from a race which is that we are widening the gap at the top but this was not a fun race for me," said Quartararo.
"I couldn't overtake at all, the only overtake I did was against Marini and that too was at the limit, we crossed.
"For me, the difference is in acceleration and everything, it's impossible to try anything."
Factory Ducati rider Jack Miller was dominant to win the race 3.409 seconds ahead of Brad Binder who was sensational for KTM.
Read Also:
2022 MotoGP standings after Japanese MotoGP: Quartararo away from Bagnaia
Pramac team rider Jorge Martin could not survive the onslaught of the KTM driver due to tire wear at the end of the race and had to settle for finishing P3.
Marc Marquez was also able to be competitive, although with the condition of his right arm that has not fully recovered from the injury, finishing P4 after undergoing the race from pole position.
The 2022 MotoGP circus will continue to the Chang International Circuit, Buriram, Thailand next week which will be the last race in a series of triple headers since Aragon.
[Antara]