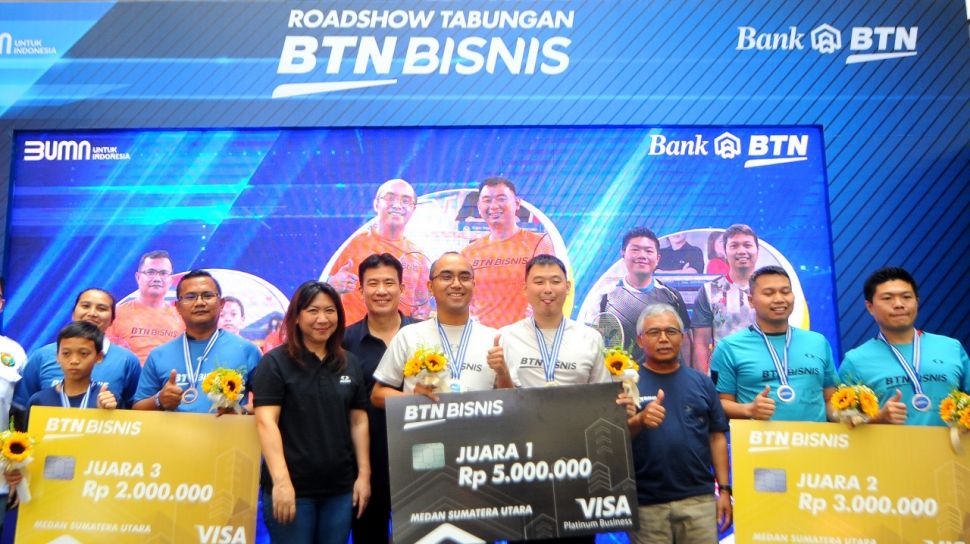 Suara.com – PT Bank Tabungan Negara (Persero) Tbk is aggressively marketing its newest product, namely Tabungan BTN Bisnis which is intended for business players. This effort was carried out by conducting road shows to various cities in Indonesia, including Medan City, North Sumatra.
Through the BTN Bisnis Savings, Bank BTN seeks to boost the acquisition of Third Party Funds (DPK) by targeting business players from various business segments and sectors, both those in the upstream and downstream industries, especially MSMEs.
Bank BTN Distribution & Funding Director Jasmin explained, the BTN Business Savings Road Show in North Sumatra is expected to be able to attract entrepreneurs in North Sumatra to take advantage of products designed specifically for business people.
"Moreover, in North Sumatra, especially Medan City, there are many business areas, both in the form of markets and trade centers," he said during the BTN Business Savings Road Show at the Plaza Medan Fair Mall, Saturday (9/24/2022).
Read Also:
Suspected short circuit, 1 unit of house caught fire on Jalan Mongonsidi Medan
He explained, BTN Bisnis Savings is one solution for business actors that will facilitate their business transactions because it has various supporting features including high transaction limits for transfers. In addition, BTN Bisnis Savings also offers features that can facilitate monitoring, and recording transaction bookkeeping.
"This BTN Bisnis Savings provides easy transactions for business segments such as SME, trade, property and others, both individually and institutionally," he said.
Jasmin said, BTN Bisnis Savings can support the flow of transactions between traders from suppliers, raw material processors and sellers in the industrial business chain. Moreover, the growth of the local product business is increasingly in demand with quality and innovative products.
"Fast business growth needs to be supported by qualified banking services that support transactions," he added.
Regarding BTN Business Savings, continued Jasmin, there are a number of benefits provided to entrepreneurs. Among other things, the amount of the transaction limit, namely the transfer value between BTN accounts and other banks is greater than ordinary savings. In addition, the BTN Bisnis Savings still applies free transfer and administration fees.
Read Also:
Police Arrest BLT Money Theft in Deli Serdang, This Is What It Looks Like
"BTN Bisnis Savings also provides detailed information related to detailed business transactions, for example including the identity of the sender of funds and information on the incoming transaction method, whether by QRIS or EDC and so on," he explained.
He said that after it was launched at the end of March 2022, it had earned Rp 1.6 trillion. "We are not looking for volume, but the quality of business transactions for business people, so that the ecosystem is right," he concluded.
This is also the background of the Bank with the BBTN stock code making Alan Budikusuma and Susi Susanti, former national badminton athletes, who are now sports product businessmen, become Bank BTN's advertising models.
Jasmin, Alan and Susi said that they represent successful entrepreneurs with innovative local products and are able to compete with international products.