Suara.com – Several schools in Cianjur Regency, West Java need to be intervened and educated to reduce child marriage rates.
Moreover, according to data from the Central Statistics Agency (BPS) 2020, West Java is Indonesia's second province with the highest number of child marriages, while Cianjur, the second region in West Java, has the highest number of minors married.
This phenomenon eventually led Pocter & Gamble (P&G) and Save the Children to run the 'We See Equal' program at SMPN 1 Cibeber, Cianjur, West Java.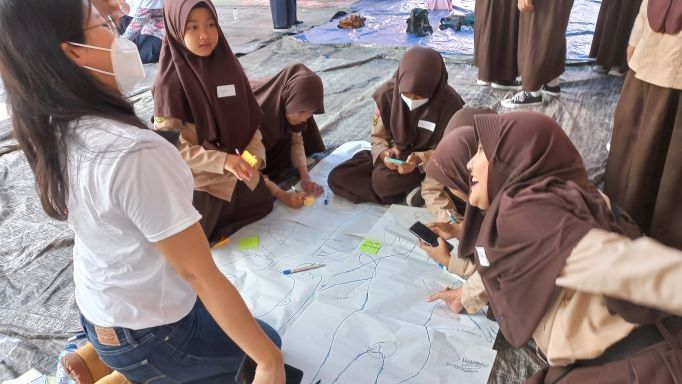 This event was held in the form of education and understanding the importance of preventing child marriage, to teachers, parents and students of SMPN 1 Cibeber.
Read Also:
The Coalition to Stop Child Marriage in South Sulawesi Forms a Working Team for Child Marriage Cases in Wajo Regency
Education is carried out in the form of series, such as online and offline discussion events targeting 100 parents and 30 teachers. The goal is to strengthen their knowledge and commitment to form a good parenting pattern from home.
Furthermore, the highlight of this educational event also targeted 100 students who PNG employees invited to discuss and play educational games, which took place on Friday (23/9/2022) in Cibeber, Cianjur, West Java.
Psychologist and Parenting, Ayank Irma said children aged less than 20 years were considered not to have perfect mature thoughts, so it was difficult to take responsibility for new individuals or children.
"Many young mothers who marry early experience depression, so when they want to save themselves, they think they have children, so their depression gets worse," Ayank said at a press conference.
Ayank added that because this young mother suffered from severe depression, which eventually affected her family, the mother could also commit crimes or even want to end her life.
Read Also:
The Child Marriage Rate in South Sulawesi is Still High
"This condition can also be dangerous for children who see the dynamics of their family. So that's the danger of teenagers marrying at the age of children, there is no readiness," added Ayank.