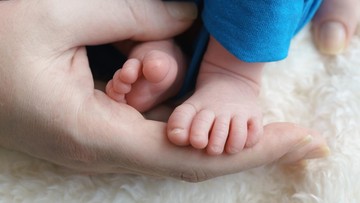 Newsdelivers.com –
Without realizing it, rare diseases really are all around us. Although the case is very rare, this disease can be stalking the Little One.
The story of a mother whose child is suffering Kawasaki disease recently went viral on social media. He shared his story of caring for the baby.
The story was shared by the TikTok account @yumnarafania. Hai Bunda had contacted Mother Elsa and was allowed to share the story of Yumna's sister.
Mother Elsa told me, her daughter who was 2 years 5 months suddenly had a fever every morning. Yumna experienced this for three days. He was taken to the doctor and diagnosed positive typhus
However, his condition did not improve. Yumna also experienced various other symptoms such as blackened lips to red eyes, Mother.
"During treatment all night, my child was fussy until the morning, he still cried and the fever went down only if he was given fever-reducing medicine. Dry lips started to appear, cracked reddened lips, reddened eyes also appeared, and rashes on the palms, feet and back appeared," he explained. Mother Elsa to Hai Bunda recently.
Fever that does not go away accompanied by other symptoms makes doctors have suspicions of other diseases. The doctor then requested that additional laboratory tests be carried out, along with the following: x-ray, and record the heart.
"The pediatrician suspected that my son had the disease Kawasaki disease or inflammation of the blood vessels. The results are positive," said Mother Elsa.
"The process is 1 week, the beginning of the fever on September 3 and the 9th is notified suspect Kawasaki until the 10th came out positive results. Before the fever, my child was still active like a toddler in general, there were no suspicions and no symptoms," he added.
Yumna is currently undergoing intensive treatment. He has been out of the hospital since September 14 and is undergoing outpatient treatment.
Mother Elsa said, the child must take a number of special drugs. Read on the next page.
Also watch the video about PCV immunization for children:
[Gambas:Video Haibunda]