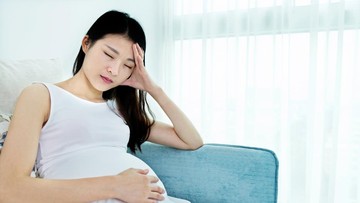 Have you ever heard of preeclampsia during pregnancy?
Preeclampsia is when you have new high blood pressure and at least one associated symptom, such as protein in your urine, during pregnancy or after delivery. Levels of platelets or blood cells that help your blood clot can also be low, or an indicator of kidney or liver problems.
Preeclampsia generally occurs after 20 weeks of gestation. But in some cases, it occurs earlier, or after delivery.
The severe development of preeclampsia is called eclampsia. With this condition, high blood pressure causes seizures. Like preeclampsia, eclampsia occurs during pregnancy or, rarely, after delivery.
What causes preeclampsia?
Reported from healthline, Doctors have not been able to identify the exact cause of preeclampsia, but several potential causes are being studied. This includes:
Genetic factors
Blood vessel problems
Autoimmune disorders
Several risk factors can also increase your chances of developing preeclampsia. This includes:
Have a twin pregnancy
Over 40
Pregnant for the first time
Had preeclampsia in a previous pregnancy
Have a family history of preeclampsia
Experiencing obesity
Have a history of health conditions such as high blood pressure, diabetes, kidney disease, lupus or other autoimmune disorders, and sickle cell disease
Get pregnant using in vitro fertilization
There is no way to prevent preeclampsia. Early and consistent prenatal care can help your doctor diagnose preeclampsia more quickly and avoid complications. Having a diagnosis will allow your doctor to give you proper monitoring until your due date.
Signs and symptoms of preeclampsia
It's important to remember that you may not notice any symptoms of preeclampsia. If you develop symptoms, some common ones include:
persistent headache
Upper stomach pain
Unusual swelling in your hands and face
Sudden weight gain
Nausea or vomiting
Hard to breathe
Changes in your vision, such as blurred vision or seeing spots
During a physical exam, your doctor may find that your blood pressure is 140/90 millimeters of mercury or higher. Urine and blood tests can also show protein in your urine, unusual liver enzymes, and low platelet levels.
At this point, your doctor may do a non-stress test to monitor your baby. The non-stress test is a simple test that measures how the baby's heart rate changes as the baby moves. They may also do an ultrasound to check your fluid levels and your baby's health.
What is the treatment for preeclampsia?
The recommended treatment for preeclampsia during pregnancy is delivery. In most cases, giving birth to a baby prevents the development of the condition.
Labor
If you are 37 weeks or older, your doctor may induce labor. At this point, your baby is quite developed and is not considered premature.
If you have preeclampsia before 37 weeks, your doctor will consider the health of you and your baby when deciding when to give birth. This depends on many factors, including the gestational age of your baby, whether labor has started or not, and how severe the illness is. Delivery of the baby and the placenta usually resolves the condition.
Other treatments during pregnancy
In some cases, your doctor may give you medication to help lower your blood pressure. They may also give you medication to prevent seizures, a possible complication of preeclampsia.
The doctor may ask you to go to the hospital for more thorough monitoring. You may receive intravenous (IV) medication to lower your blood pressure or steroid injections to help your baby's lungs develop more quickly.
Management of preeclampsia is guided by whether the disease is considered mild or severe. Signs of severe preeclampsia include:
Changes in the baby's heart rate that indicate distress
Stomach ache
Seizure
Impaired kidney or liver function
Fluid in the lungs
If you have symptoms of severe preeclampsia, you should get medical attention immediately. If you notice any unusual signs or symptoms during pregnancy, you should see a doctor immediately. Remember that the main concern is the health of the mother and the health of the baby.
Postnatal care
According to Preeclampsia FoundationAfter the baby is born, the symptoms of preeclampsia usually resolve within 48 hours. Research has found that for many women with preeclampsia, symptoms go away, liver and kidney function returns to normal within a few months.
However, preeclampsia can also occur after delivery, even if you have an uncomplicated pregnancy. The National Institute of Child Health and Human Development says that postpartum preeclampsia usually occurs between 48 hours and 6 weeks after delivery.
For this reason, if you develop preeclampsia during pregnancy, close follow-up care with your doctor and regular blood pressure checks are important after delivery. Even after an uncomplicated pregnancy, call your doctor if you have recently given birth and watch for signs of preeclampsia.
What are the complications of preeclampsia?
Preeclampsia is a very serious condition. This can be life threatening for you and your baby if left untreated. Other complications can include:
Bleeding problems due to low platelet levels
Placental abruption (separation of the placenta from the uterine wall)
Heart damage
Kidney failure
Edema paru
Seizure
Complications in babies can also occur if they are born prematurely because of efforts to overcome preeclampsia.
Research data on race and ethnicity
While the prevalence of preeclampsia is 3 to 5 percent, a 2020 review of research found that the impact is not the same across all populations. Incidence and outcome rates are disproportionate among certain groups. This includes non-Hispanic black women and American Indian or Alaska Native women.
The available disparity data mostly compare the differences between black women and non-Hispanic white women. Only a few studies have looked at results for Asian women, American Indians, Alaska Natives, or mixed races.
A 2017 report examined the prevalence of preeclampsia in 2014. It included data from nearly 177,000 deliveries to women with preeclampsia or eclampsia.
Total number of preeclampsia and eclampsia by race and ethnicity:
69.8 per 1,000 births for black women — 60 percent higher than white women
46.8 per 1,000 deliveries for Hispanic women
43.3 per 1,000 deliveries for white women
28.8 per 1000 deliveries for Asian/Pacific Islander women
Overall, morbidity and mortality in pregnancy is not the same across racial and ethnic groups.
For example, a 2019 study found that, between 2007 and 2016, black and Alaskan American Indian or Native American women experienced more pregnancy-related deaths than white, Hispanic, and Asian American or Pacific Islander women.
Overall, research on preeclampsia and using racial and ethnic differences is still limited. Further research is needed that considers environmental, behavioral, genetic, and socioeconomic factors as well as access to health care.
During pregnancy, it is very important to keep both mother and baby as healthy as possible. This includes eating a balanced diet, taking a prenatal vitamin with folic acid, and having regular prenatal care checkups.
But even with proper treatment, unavoidable conditions like preeclampsia sometimes occur, during pregnancy or after delivery. Preeclampsia can be dangerous for both you and your baby.
Talk to your doctor about things you can do to lower your risk of preeclampsia and about the warning signs. If necessary, they may refer you to a specialist in maternal and child medicine for additional treatment.
[Gambas:Video Haibunda]