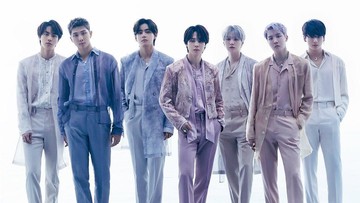 Newsdelivers.com, Insertlive –
South Korean idol group BTS will perform at the 2030 Busan World Expo.
HYBE has provided a clarification statement regarding the cost of BTS's concert at the event.
Reported from SoompiHYBE stated that the cost of the concert will be partially borne by several sponsors.
The sponsorship funds come from advertising streaming onlinea subsidiary of THE CITY, and others.
Meanwhile, HYBE will bear the remaining costs related to BTS's concert at Busan World Expo 2030.
In addition, HYBE said that BTS will perform at the concert without receiving payment.
BTS turned out to want to work and realize the hope of being able to hold a free concert for fans.
HYBE stated that BTS has often participated in important national events.
BTS is also said to not be too concerned about the fee when involved in the event.
V and BTS's friends don't have a problem with paying because they know very well that important state events must use taxes.
The Busan government has provided a location for the concert event.
In fact, the Busan government also helped provide funds with a limited budget.
However, HYBE doesn't want the Busan government to worry about the BTS concert budget at the 2030 World Expo.
HYBE is proud to be able to contribute to an event that will introduce South Korea to the world.
In addition, HYBE also feels the need to get involved because the World Expo 2030 event will definitely improve the economy of Korea and Busan.
"HYBE and BTS are proud to contribute to the country," wrote HYBE in an official statement quoted from Soompi on Friday (23/9).
HYBE also commented on Korea's opportunity to host the 2030 World Expo.
HYBE then invited all parties to work together in supporting Korea and Busan as the host of the event.
"Korea is said to be the 'underdog' in the competition to host the 2030 World Expo," said HYBE.
"We think everyone should work together so that Busan can host the World Expo in 2030 so that's why our company and also BTS have decided to support that goal. Through this concert, HYBE and BTS want to make Busan a place that can be in the spotlight. the world," continued HYBE.
HYBE and BTS will try their best so that the name Busan can be fragrant in the eyes of the world through the World Expo 2030 event.
"HYBE and BTS will do their best until the end so that the upcoming concert can be the foundation for the city of Busan to be able to host the 2030 World Expo," HYBE said.
The plan is that BTS' concert at the World Expo 2030 Busan will take place on October 15, 2022 at the Busan Asiad Main Stadium.
Fans who cannot come directly to Busan to watch BTS's concert at World Expo 2030, can watch the concert through Weverse.
(ikh/and)