Suara.com – Habib Rizieq's masses who are members of the National Movement for People's Defenders (GNPR) held a demonstration in the Merdeka Palace area, Jakarta, Friday (23/9/2022).
When they protested against the increase in fuel prices, President Joko Widodo or Jokowi was known to be working at the Bogor Palace, West Java.
This was conveyed by the Head of the Presidential Secretariat Heru Budi Hartono. According to Heru, Jokowi's schedule in Bogor has been determined since two weeks ago.
"Incidentally, he was scheduled to be in Jakarta from last Sunday to Thursday, Fridays are usually quite busy in Bogor," said Heru at the Presidential Palace Complex, Jakarta, Friday (23/9/2022).
Read Also:
Actions of Mothers Rejecting Fuel Price Increases Bring Cooking Utensils, Ask Jokowi to Resign
Heru admitted that he did not receive special instructions from Jokowi regarding the demonstration this time. Even so, he believes that Jokowi has given routine instructions to the palace security forces.
Furthermore, Heru also revealed that there would be representatives of the Palace who could be met by representatives of the mass demonstrations.
"Of course there must be government representatives. Hopefully, the demands can be recorded and become a concern for all of us. It's the same for all the demands from yesterday."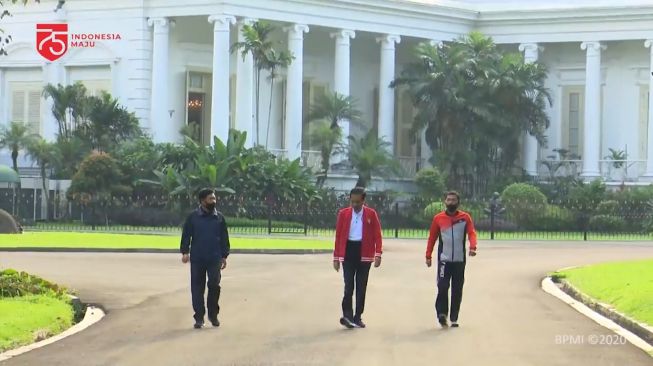 Based on the invitation poster received by Suara.com, the demonstration will take place at 13.00 WIB, to be precise, for Friday prayers. The GNPR masses have called for a number of demands, namely lowering fuel prices to upholding the rule of law.
In the poster, the protestors are advised not to bring small children. In addition, the masses were also asked to prepare coats and umbrellas.
Read Also:
Grandmothers of Geruduk Istana, Threatening Jokowi to Resign if Unable to Lower Fuel Prices
Separately, the Central Jakarta Metro Police Chief, Kombes Komarudin said, as many as 3,800 personnel were deployed to carry out security activities. That number is a combination of TNI and Polri officers.