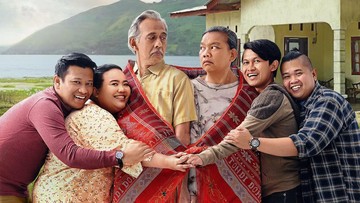 Newsdelivers.com, Insertlive –
Bene Dion director of the film Horrible Horrible Delicious conveyed his heart for the work he had just worked on.
Through a tweet on Twitter, he admitted that he was dizzy and confused looking for the right English title for Horrible Horrible Delicious.
The English title is needed because it will be broadcast on the service streaming next October.
"We discussed for a long time looking for an English title for Horror Sedap Sedap. Genuine, dizzy," tweeted Bene Dion, Friday (23/9).
However, after going through a long process of discussion Bene and his team agreed to give the title Missing Home.
"And in the end, everyone agreed to use this title. Because if you use the Horrifyingly Delicious translation, everyone is looking for it in a daze," he continued.
Bene Dion's statement immediately invited various hilarious comments from netizens.
They contributed to the suggestion for the English title of Horrible Horrible Delicious.
"Scary scary yummy," cooked @deb***.
"It's the best even though the title is Scary Scary Delicious, bang ben," wrote @Ram***.
"Scary but tempting" maybe close to the translation to "scary but tempting"? But make the movie title "Missing Home" more appropriate," tweet @@Pra*** account.
Horrible Horrible Delicious aired on June 2. The film stars Indra Jegel, Arswendy Nasution, Tika Pangabean, Boris Bokir, Lolox to Gita Bhebita.
(agn/syf)