Suara.com – The mass of women who took to the streets with the National Movement for People's Defenders (GNPR) in the Horse Statue area, Central Jakarta, Friday (23/9/2022) also brought cooking utensils.
While waiting for other protest participants to arrive at the location, a number of women hit a spatula against a fishing rod while shouting demands. According to one of the women named Ida, the cooking utensils that were brought were a symbol of rejection regarding the increase in fuel prices.
"Because mothers or mothers are the most affected by the increase in fuel prices," Ida said when met by the media crew.
Meanwhile, continued Ida, the income of working husbands did not increase or increase. With the increase in fuel prices, Ida also felt the impact, namely the price of basic necessities also increased.
Read Also:
Road to the Palace Closed Ahead of the GNPR Demo, Police Install 3 Layers of Concrete Barrier on the Horse Statue
"We are directly affected, both at home, one more note, this will definitely cause disharmony in the house," he said.
Ida said that rising fuel prices could also trigger a commotion and lead to divorce. For that, President Joko Widodo (Jokowi) must take responsibility for the situation.
"There will definitely be a commotion when the commotion cannot be resolved. The divorce rate will certainly be high, whose responsibility is it? Mr. Jokowi, because he has announced an increase in fuel prices. This is not only for us, but all elements are also affected."
As observed by Suara.com, there were a number of demand banners that were brought by the masses of action. One of them is a banner with the words "Jokowi Fails to Prosper the Indonesian People, Lowers Fuel Prices or Jokowi Resigns."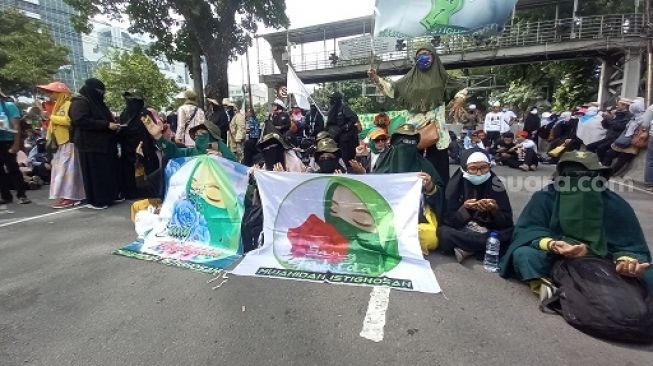 In addition, there is also a banner that reads "Lower the Price of Sembako." At this time, the mass of action was singing the anthem Indonesia Raya while waiting for the participants who had not yet arrived.
Read Also:
Mass GNPR Ruined Istana Habis Jumatan, Medan Merdeka Barat Area Closed with Barbed Wire and Concrete Barrier
From behind the barbed wire and concrete barrier that stretched under the JPO, the police also welcomed the arrival of the crowd. Through loudspeakers, the police said they would escort the demonstration to completion.
"We are here with the Metro Jaya Regional Police, TNI colleagues and local government officials are here to guard and protect my brothers and sisters who will express their opinions in public," said the officer.
The police called on the action crowd to express their opinions according to the rules in force. Mass action is requested to be orderly, peaceful, and not disturb the rights of others.
"Therefore, I remind all of you that in expressing your opinion in public, let's do it in a peaceful, serene, orderly manner and without disturbing the rights of others. We hope that the expression of aspirations and the expression of opinions in public can go well."