Suara.com – In order to provide the best travel experience for consumers, Traveloka collaborates with Indonesian visual artists to present exclusive thematic accommodation types at Sampatti Villas Seminyak Bali and Dago Heuvel Resort Bandung.
This collaboration is a tangible manifestation of Traveloka's efforts to encourage the rotation of the accommodation partner business and is a form of company support for the progress of Indonesian artists.
This time, Traveloka presents a collaboration program with Indonesian artists, Abenk Alter and Arnis Muhammad as the latest innovation in a variety of accommodation options, so that consumers can experience staying in exclusive thematic accommodations with a new and different atmosphere.
This exclusive thematic accommodation type can be found and booked at Traveloka Holiday Stays accommodation options, namely at Sampatti Villas Seminyak Bali and Dago Heuvel Resort Bandung since last August.
Read Also:
60 Percent of Gen Z Need a Mentor Role to Develop Digital Skills
Through this collaboration, Traveloka seeks to provide opportunities for Indonesian visual artists to work through accommodation property objects. Starting from mural art, art prints on the walls, to fixtures around the property's rooms with the artistic style of Abenk Alter and Arnis Muhammad.
Muhammad Imaduddin (Edu), Senior Vice President of Traveloka Accommodation, said "This collaboration is a form of collaboration between Traveloka and partners to provide a special stay experience in exclusive accommodation options for consumers. Not only that, Traveloka's collaboration with Abenk Alter and Arnis Muhammad is also a form of our appreciation for Indonesian artists through the use of technology."
Exclusive thematic accommodations created by Abenk Alter can be found at Sampatti Villas Seminyak Bali since 12 August. Abenk Alter thematic accommodation brings the beauty of the atmosphere on vacation on the island of Bali.
In addition to pouring his visual works into the interior and exterior of the property, Abenk Alter also implements his work on various elements in the room such as blankets, pillows, towels, paintings, to the available amenities.
In addition, this accommodation option also provides puzzle games that guests can play as well as Traveloka Holiday Stays storybooks that can be a guide for consumers' vacations while on vacation in Bali.
Read Also:
Pay attention to this when it's your first time on an airplane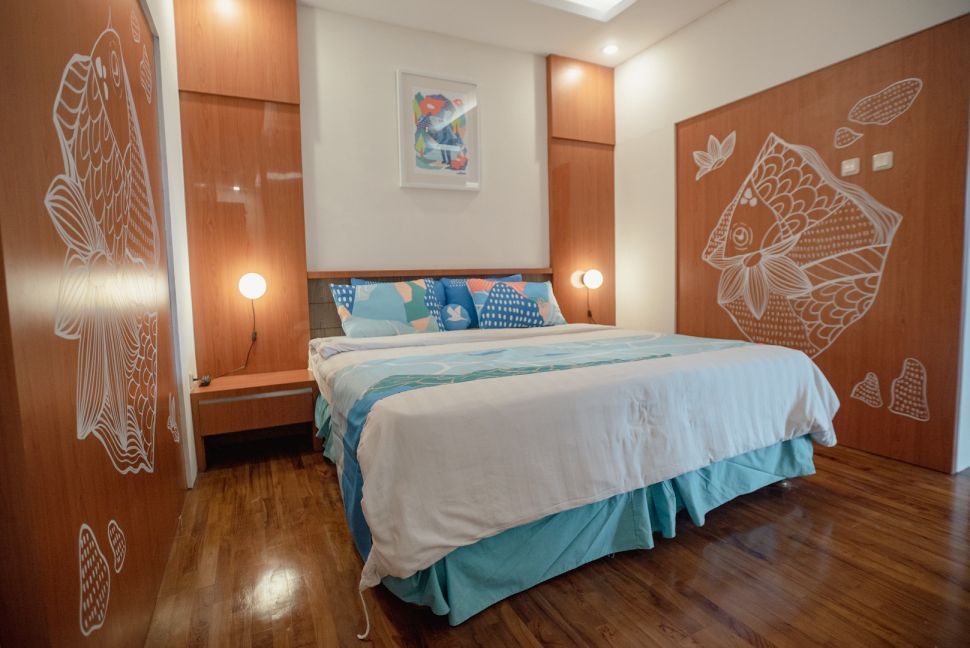 Meanwhile, the exclusive thematic accommodation from Arnis Muhammad can be found in the choice of accommodation types at Dago Heuvel Resort Bandung. In this exclusive accommodation type, consumers can enjoy the visual atmosphere of Bandung's calm greenery and cool climate, away from the hustle and bustle of the city.