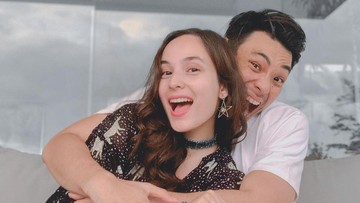 Newsdelivers.com, Insertlive –
Rob Clinton Cardinal fiancé of Chelsea Islan brings shocking news.
The man who made the adam jealous because he was able to conquer Chelsea Islan's heart was known to have just undergone sprinkling baptism.
This was known through Rob Clinton's latest upload on his Instagram page.
In his two uploads, Rob Clinton shows the moment he underwent splash baptism with his family including Chelsea Islan.
Then the next moment shows Rob Clinton's sacred moment when he was baptized.
"In the name of the Father and of the Son and of the Holy spirit, Amen," he wrote.
In addition to the moment of his baptism, Rob Clinton was also highlighted about the name Alexander, which was allegedly his new name after converting to Catholicism.
"Please Welcome Mr. Alexander," he continued.
From a number of information gathered, Rob Clinton did sprinkling baptism in a Catholic church.
Strong suspicion that Rob Clinton converted to Catholicism under the new name Alexander.
In addition, netizens who made comments wrote their welcome to Rob Clinton who entered into a Catholic family.
"Welcome to join as a member of the Catholic Church," commented the account @tysa***.
"Welcome to Katholik Family," said the account @yo10***.
Rob Clinton's religious conversion is also suspected because he will soon marry his fiancé Chelsea Islan.
Rob Clinton is known to have proposed to her lover on October 26, 2021 ago after being in a romance since 2019.
However, this news has not been further confirmed by Rob Clinton Cardinal and Chelsea Islan.
(dis/dis)