Suara.com – Aprilia's Aleix Espargaro arrived in Motegi, Japan with restored confidence thanks to a podium finish at the Aragon MotoGP race last weekend.
After six straight races without stepping on the podium, Espargaro finished P3 thanks to a maneuver against KTM's Brad Binder in the last three laps of the Aragon GP to keep his position in third place in the standings with a distance of 17 points from the top which is still held by Fabio Quartararo with five races remaining.
Espargaro has been one of the consistent drivers this season, having maintained a trend of top 10 finishes in the last 11 races, five of which ended on the podium.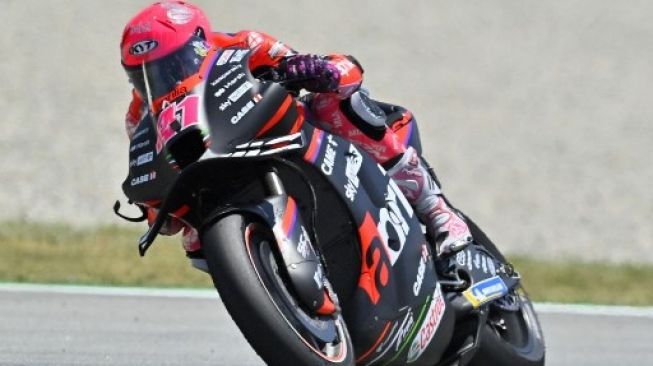 "It's good to be back on the podium. What's more, this is an additional boost to my confidence," said Espargaro at a press conference ahead of the Japanese Grand Prix at Motegi, Thursday as published by Antara.
Read Also:
Top 5 Sport: Japanese MotoGP Statistics, Honda Dominate Motegi Circuit
"Finishing on the podium, especially after a difficult weekend with two crashes on Friday, failing to qualify for Q2… It wasn't an easy weekend for me, but being able to take the bike to the podium on Sunday was amazing."
Espargaro also admitted that he was overwhelmed at Misano and Austria, but was satisfied with his performance and was able to finish P6 at a circuit that was difficult for him to beat.
At Motegi, which has a hard braking zone and a number of straight lines, Aprilia will be wary of the RS-GP's ability in "straight-line braking" which is their weakness.
"I think, in the Misano test, we improved that area a little bit, and it's not really related to track grip. It will also depend on what rear tire we use, so I'm not worried," said Espargaro.
Motegi, who has been absent from the MotoGP racing calendar for two years due to the COVID-19 pandemic, presents another challenge, namely the unpredictable weather.
Read Also:
Responding to Ducati Team Order Francesco Bagnaia: I Don't Need Help
The organizers also made a schedule change on Friday where for MotoGP there is only one training session during the day. The FP2 and FP3 sessions were held on the Saturday before the qualifying round.