Newsdelivers.com
–
Lower abdominal pain can occur in any trimester of pregnancy, Mother. The cause of this condition needs to be known to prevent the danger signs.
Lower abdominal pain is actually normal for pregnant women or pregnant women. During pregnancy, you will experience many changes in your body that cause this complaint.
There are several causes of lower abdominal pain during pregnancy. This cause needs to be recognized because it could be a sign of danger to the fetus.
Quoted from several sources, here are 10 causes of lower abdominal pain during pregnancy:
1. Urinary tract infection (UTI)
Research published in the journal Archives of Medical Science in 2015 stated that UTI is a common condition experienced by pregnant women. According to one study from the Centers for Disease Control and Prevention (CDC), about 8 percent of pregnant women experience a UTI.
Reported Medical News Today, the uterus will develop as the fetus grows during pregnancy. This puts pressure on the bladder and ureters, the tubes that carry urine from the kidneys to the bladder.
Urine also contains more protein, sugar, and hormones during pregnancy. This can increase the risk of UTIs.
Signs of UTI during pregnancy
The main sign or symptom during pregnancy is lower abdominal pain. In addition, there are several other signs, namely:
Pain when urinating (BAK)
Feeling very tired and shaking a lot
Urine smells bad and tends to be cloudy
Usually symptoms can be accompanied by fever
UTIs during pregnancy can generally be treated with medication. Your doctor can test a urine sample to diagnose a UTI and prescribe antibiotic treatment.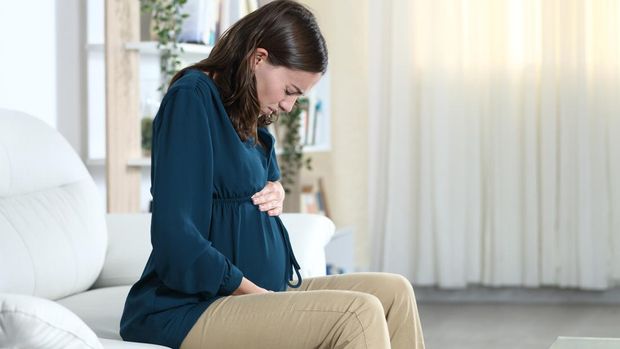 Illustration of Pregnant Woman with Lower Abdominal Pain/ Photo: Getty Images/iStockphoto
2. Excessive gas in the stomach
Excess gas trapped in the stomach can cause pain during pregnancy. This condition will usually affect the digestive system, Mother.
Causes of excess gas in the stomach
Excess gas in the stomach can occur for several reasons, such as:
Pregnancy hormones can slow down the digestive system.
The growing uterus puts pressure on the digestive system.
Gas caused due to pregnancy-related constipation upsets the balance of the digestive system.
3. Preparation of the body during pregnancy
In addition to the two common causes above, lower abdominal pain during pregnancy can also occur for several reasons in early pregnancy. The stomach will feel like it is being stabbed or pulled to one or both sides and is accompanied by cramping.
The cause of this lower abdominal pain is hormonal changes. In addition, other causes can be due to increased blood flow and changes in the body in preparation for carrying a fetus.
4. Ectopic pregnancy
An ectopic pregnancy occurs when the fertilized egg attaches outside the uterus. This condition can be experienced by about 1 in 50 pregnant women.
An ectopic pregnancy cannot proceed normally because the fertilized egg cannot survive. In addition, tissue that grows outside the uterus can also be life-threatening if not treated immediately.
Ectopic pregnancy causes lower abdominal pain
You will experience lower abdominal pain during an ectopic pregnancy, especially in the first trimester. Pain or tenderness will radiate to the pelvis and may be accompanied by spots appearing.
"Ectopic pregnancy makes a person experience symptoms of pain in the lower abdomen and spots in the form of blood similar to menstruation. This originates from the fallopian tube which begins to be disturbed until it tears or ruptures due to improper pregnancy growth," said the Obstetrician and Gynecologist. Gynecology from RSIA Bunda Newsdelivers.com, dr. Gorga IVW Udjung, Sp. OG, when contacted Hai Bunda some time ago.
An ectopic pregnancy should be treated immediately. This is because an ectopic pregnancy can cause bleeding.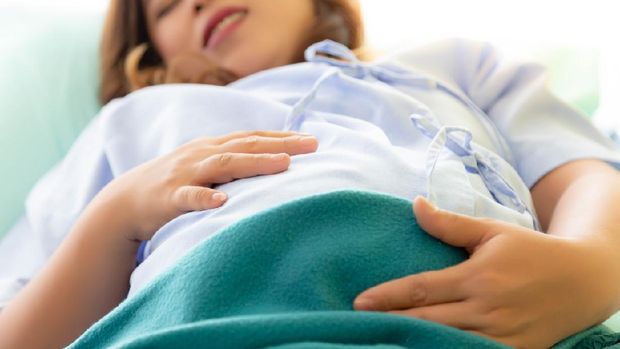 Illustration of Pregnant Woman with Lower Abdominal Pain/ Photo: Getty Images/iStockphoto/
5. Muscles and ligaments stretch
Mothers can again experience lower abdominal pain in the second trimester. However, the cause can be different from early pregnancy, Mother.
Lower abdominal pain in the second trimester is usually due to the growing fetus. Entering the second trimester, the muscles and ligaments will stretch as the stomach enlarges.
Stomach pain worsens under certain conditions
Mother may feel pain like being pressed by a blunt object in the lower abdominal area. The pain may worsen when standing up, getting up from a place.
This pain is usually temporary or harmless. To reduce and prevent it, you can stretch to strengthen your pelvic muscles or practice pregnancy yoga.
6. Fake contractions
The cause of lower abdominal pain in the second and third trimesters is false contractions or Braxton Hicks. False contractions are part of the body's preparation for childbirth, and usually occur in the weeks before delivery.
Head of the Department of Obstetrics and Gynecology, Dr. Cipto Mangunkusumo, Dr. dr. Suskhan Djusad, Sp.OG (K) explained, false contractions are tight stomach conditions that occur irregularly or come and go.
Causes of false contractions
False contractions are short-lived and can be felt every hour. In addition to lower abdominal pain, these contractions can also cause cramping in the waist area.
False contractions will be felt when you are tired or doing a lot of strenuous activities. In addition, a lot of standing during pregnancy can also trigger false contractions.
7. Causes of lower abdominal pain: Vaginal discharge
Vaginal discharge during pregnancy can be caused by increased production of vaginal fluid. It is normal for the discharge to be odorless or itchy.
However, you need to be careful if vaginal discharge causes lower abdominal pain. According to Suskhan, lower abdominal pain due to vaginal discharge is generally caused by infection, Mother.
"In pregnant women who have an infection there will be a reaction that causes contractions. The infection can enter the mother's womb. As a result, the mother's stomach becomes tight and feels very sick," said Suskhan to Hai Bundasome time ago.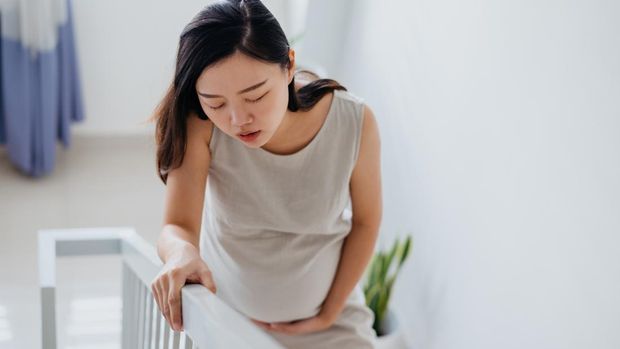 Illustration of Pregnant Woman with Lower Stomach Pain/ Photo: Getty Images/iStockphoto/hxyume
8. Fatigue
Fatigue as a cause of lower abdominal pain can occur when the stomach begins to enlarge. Fatigue can be due to the physical activity you did during pregnancy.
"Lower abdominal pain due to fatigue can be caused by the mother's activities during pregnancy. For example, pregnant women are tired when walking long distances or going up and down stairs," said Suskhan.
"To prevent lower abdominal pain, pregnant women should reduce tiring activities," he continued.
9. Having sex while pregnant
Having sex can cause lower abdominal pain during pregnancy. This can only happen when the father's sperm enters the mother's body.
According to Suskhan, male sperm contains prostaglandins that can stimulate uterine muscles to contract. Prostaglandins only react when they enter your body.
Contractions due to sexual intercourse cause the stomach to feel tight. Over time the lower abdomen will feel pain.
"Sexual intercourse during pregnancy is still allowed. However, keep in mind not to throw away the male sperm in the mother's body," said Suskhan.
10. Causes of lower abdominal pain: Medical conditions
Medical conditions or problems that occur in internal organs can also trigger lower abdominal pain during pregnancy. One example is the appendix or inflammation of the appendix, Mother.
Suskhan said that appendicitis is rare during pregnancy, but you still have to be careful. Appendicitis during pregnancy can be dangerous for pregnant women if it ruptures and causes infection.
Apart from appendicitis, other medical conditions that cause lower abdominal pain are kidney, liver, or liver pain.
Mother, let's download the Allo Bank digital application here. Get a 10 percent discount and cashback 5 percent.
Check out 6 reasons why you experience back pain during pregnancy, in the following video:
[Gambas:Video Haibunda]
(ank/pri)