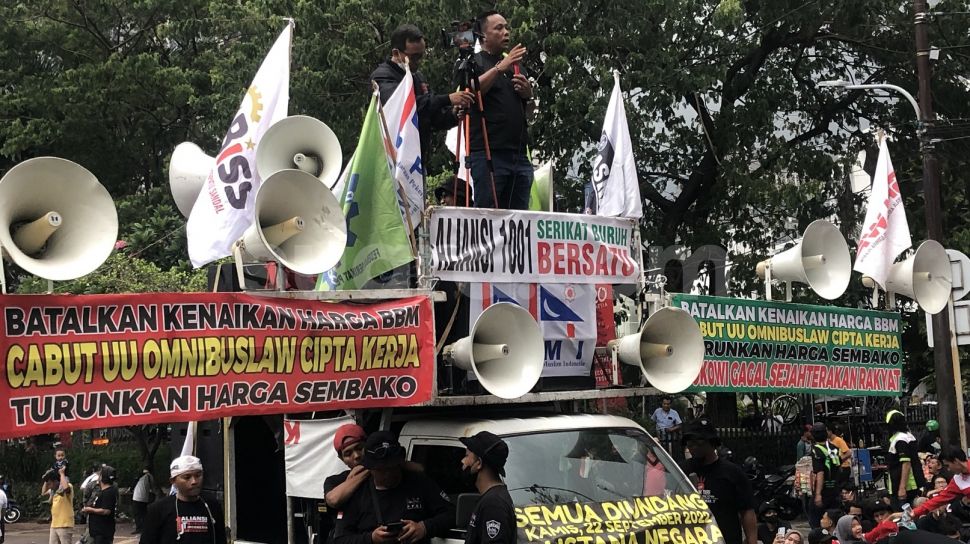 Suara.com – Hundreds of workers who want a demonstration near the Merdeka Palace, can only voice their aspirations around the Horse Statue, Jalan Merdeka Barat, Central Jakarta on Thursday (22/9/2022).
Those who are members of the 1001 united labor alliance came from Puncak Pas, Bogor, West Java on foot.
"This is our promise, yesterday we walked from Puncak Pas from the 20th (September)," said the orator from the command car, Thursday (22/9/2022).
In their demands they demand an increase in wages which are considered to have been castrated. They said the current wage increase was not comparable to the 30 percent increase in fuel oil (BBM).
Read Also:
Prices of Needs and Fuel Rise, Why Are Labor Wages Not Rising?
"This increase in labor wages is like being castrated. The wages are not comparable to the goodness of fuel, which has increased by 30 percent," said the orator.
In addition, they demanded the repeal of the Omnibus Law. And asked to lower the prices of nine basic commodities (Sembako).
Based on Suara.com's observation in the field, this mass action revolved around hundreds of people. They arrived at the Horse Statue area in Central Jakarta at around 17.00 WIB.
Previously, there were demonstrations around the horse statue. But the demonstration was from the union of health workers (Nakes).
In the action, the health workers demanded to be appointed as a State Civil Apparatus (ASN). The demand is because the risk of work is not commensurate with the wages they receive.
Read Also:
Reply to Aria Bima PDIP, Democrats: Playing Victim is the one who likes to cry when fuel goes up during SBY's era