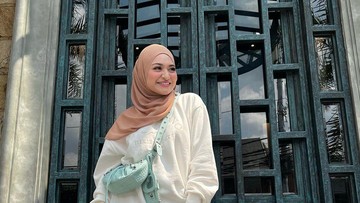 Newsdelivers.com, Insertlive –
Nathalie Holscher and Sule are still on good terms after the divorce. In fact, the two often spend time together taking care of their first son, Adzam Adriansyah Sutisna.
However, recently their togetherness stole the attention of netizens because of a video circulating, Sule allegedly reprimanded Nathalie Holscher in front of the camera.
It started when Sule was playing with his son, Adzam. Then, Nathalie appears and wants to feed Adzam.
It can be seen from the hands of Nathalie who has brought food to give to her son. The Dutch-Indonesian blooded woman tried to bribe her son.
"A, a (makan)," said Nathalie Holscher.
spoil the child really sule #sule #nathalie #refer #adzam #together #fyp #viral #terbaru
However, Adzam looks reluctant and does not want to eat the food that his mother has prepared. Sule also seemed to reprimand Nathalie for trying to feed her son.
"I don't want to, I don't like it anymore. I don't want to, I don't want to. Let it go, don't force it," he continued, looking at Nathalie Holscher.
Then, Sule was seen continuing his activities playing with his son and was indifferent to Nathalie.
The former DJ's face looked flat and then returned the food to its original place. Then, Sule said a sentence about food to Adzam.
"Oops, father was beaten. Beubeutian tuda daharna, (must be filled with food in his stomach)" said Sule.
The video footage was immediately discussed by netizens. The reason is, the look on Nathalie Holscher's face looked different when she was reprimanded by her ex-husband.
Netizens also highlighted the attitude of Sule who reprimanded his ex-wife in front of the camera without paying attention to the feelings of the mother of one child.
"It hurts so much that it's hard to make children eat, then there is no one to support them to make their children want to eat," wrote @lafen***.
"It's sad to digitize his mother," comment @novias***.
"Oh God, their hearts must be equally hurt by this incident," wrote @srima***.
(nap/and)